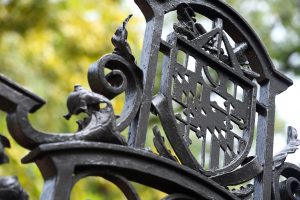 Jennifer Dailey is a member of the Class of 2018. She earned her PhD in materials science and engineering. Originally from Broomall, Pennsylvania, she has a BA in physics with a minor in chemistry.
---
How did you get interested in materials science and engineering? What interests you the most about the field?
I have been working on biosensing technology since 2009 and wanted to continue working in the same field for graduate school. When I started looking at labs of interest, Prof Howard Katz' immediately jumped out at me as one where I knew I would love to work. Since he happened to be in a Materials Science Department, that's where I applied. It was a few years after joining Hopkins that I actually finally understood what Materials Science is. That's what I love about MatSci: it's everything.
What made you decide to come to Johns Hopkins?
The fantastic potential collaborators throughout the Whiting School of Engineering, School of Public Health, and Medical School all motivated me to come to Johns Hopkins.
What research were you involved in during your time in MatSci? What was your role?
A bit of polymer chemistry, a bit of biology, some physics and electrical engineering thrown in there, and a lot of high vacuum system maintenance. My goal is to make better biosensors, and frequently this involves incredibly interdisciplinary work. One week I was searching through old chemistry journals trying to locate protecting groups for an alcohol, and another day I was troubleshooting a gas flow mixer. My primary project contributions were in organic electronic sensors for sensing ammonia, ethylene, MRSA proteins, brain injury biomarkers, and cortisol.
What impact do you hope to make through your research?
While we are still in the proof-of-concept stage, I hope that this work in electronic transduction methods can help in future design of truly point-of-care systems. One of my primary research targets is sensing food-borne diseases at the farm or factory before the outbreak has a chance to spread to consumers.
Outside of lab and class: were you involved with (groups, organizations, intramurals, etc.)?
Graduate Representative Organization (GRO), SABES, WISE (women in Science and engineering), Preparing Future Faculty Teaching Academy
What sort of impact do you hope to have either as an engineer or in a STEM field?
I love making science approachable for everyone. While not everyone should be an engineer, I truly believe everyone is capable of understanding the scientific process if it is taught in a way that resonates with them individually. Since I am entering the world of policy following graduation, I hope to be able to continue sparking interest in worthwhile projects and encouraging science funding from the government.
What are your plans or goals after graduation?
I will be an American Physical Society Science Policy Fellow in Congress from 2018-2019, where I hope to contribute a moderate scientific viewpoint on issues related to public health and agricultural sustainability.