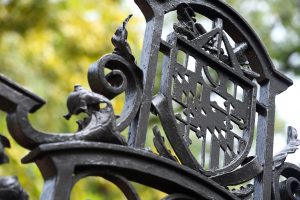 Alexander Kossak is a member of the Class of 2018 and will be graduating with bachelor's and master's degree in chemistry and materials science. He is originally from Three Bridges, New Jersey and works in the Kempa Group.
---
How did you get interested in materials science and engineering? What interests you the most about the field?
I got interested in the field while working on different synthesis for nanoparticles. I am most interested in creating materials for renewable energy purposes.
What made you decide to come to Johns Hopkins?
I came to Johns Hopkins because when I visited the campus and sat in on a lecture, I truly felt like I belonged and was part of the campus community.
What research were you involved in during your time in MatSci? What was your role?
I was involved in synthesizing multicomponent and anisotropic nanoparticles with Prof. Kempa.
What impact do you hope to make through your research?
I hope that the particles will be useful for different catalytic reactions like CO2 reduction or HER and that they allow for the creation of new alloys.
Outside of lab and class: were you involved with (groups, organizations, intramurals, etc.)?
I was involved in Spring Fair, the summer softball league, the senior class gift campaign, athletics, and tutoring.
What sort of impact do you hope to have either as an engineer or in a STEM field?
I hope to create new materials to help solve our energy consumption problem.
What are your plans or goals after graduation?
Next year I will be researching at the Max-Planck Institute for Solid State Research in Stuttgart working on 2D materials. After that, I will be enrolling in the DMSE at MIT for a PhD.