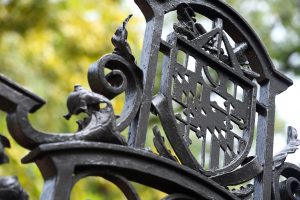 Undergraduate Beatriz Medeiros has been awarded the prestigious Undergraduate Research Apprenticeship Program (URAP) internship. The program, sponsored by the Army Research Office, aims to prove undergraduate students with the opportunity to gain valuable experience working in science and engineering research for the army.
Throughout the internship, Beatriz will be able to continue working on the research she is currently doing in Professor Timothy Weihs' lab. Her research focuses on magnesium alloys for body armor, with an emphasis on thermo-mechanical processing. Beatriz feels that this internship will be a great opportunity for her to apply materials science and engineering concepts she has learned in class.
She also recently presented her research at the Women in STEM Symposium hosted by the Women of Whiting (WOW) and held on Homewood campus. While at the symposium, Beatriz was able to interact with fellow students and gain insight from female engineering professionals. Beatriz's poster presentation demonstrated the degree by which both the hardness and elastic modulus of magnesium increased after alloying with aluminum and undergoing ECAE. She added that both of these findings would be important for creating a lightweight, bulletproof body armor.
Beatriz is thankful to Professor Weihs for giving her the opportunity to do research in his lab and for recommending her for the URAP internship. She's also thankful to PhD candidate Suhas Eswarappa Prameela for teaching her how to conduct research and for helping her prepare both the poster presentation as well as the URAP internship application. "Their contributions have been invaluable to my career both as a student and as a researcher", Beatriz stated.