With the support of the Hugh Hawkins Research Fellowship for the Study of Hopkins History, Sophia Berkey, a third-year writing seminars student in the Krieger School of Arts and Sciences, will investigate and update the history of the Whiting School of Engineering's Department of Materials Science and Engineering, with a focus on highlighting the department's diversity.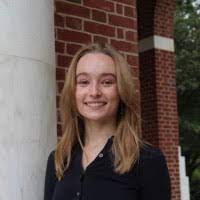 Hugh Hawkins Research Fellowships are awarded annually to undergraduate or graduate students from any school at Johns Hopkins who wish to conduct research into an aspect of Johns Hopkins University's history. They honor the contribution of Hugh Hawkins, PhD, '45, whose book Pioneer: A History of the Johns Hopkins University, 1874-1889, is considered the definitive history of the university's early years.
Berkey will be mentored on the project by Patricia McGuiggan, associate research professor in materials science and engineering and Stephen Stich, librarian for science and engineering at JHU's Sheridan Libraries.
 "I am very excited to be working with Sophia on this project," said McGuiggan. "It is time we update the history of our department, promoting the diversity of personnel who have been instrumental to our department through the years."  
"I am looking forward to studying the Department of Materials Science and Engineering from a humanities perspective. A student of Writing Seminars, English, and French, I plan to use this support to engage meaningfully with this department and to uncover elements of its history that have yet to be revealed," said Berkey, who will work through April 2023 on the project.
She believes that recording the department's many achievements over its 40-year history and highlighting its women faculty and alumnae's specific contributions will help foster a more inclusive and inspiring intellectual space now and in the future.
"Furthermore, given the stated commitment of the DMSE is to 'bring [sic] together students and faculty with diverse interests,' updating the history on the departmental website to include women will better reflect the diversity of its faculty, staff, and students," Berkey said.
In addition to expanding the narrative of the department's history, the information that Berkey compiles – including  a list of more complete list of faculty, staff, visiting scientists, post-docs, grad students, and students – has the potential to facilitate interactions with alumni and aid in cultivating relationships with current and future advisory committee members.
"Perhaps most importantly, though, this archival work gives me a chance to reflect upon the university's history and think about future ways to highlight the diversity of this department and others," she said.