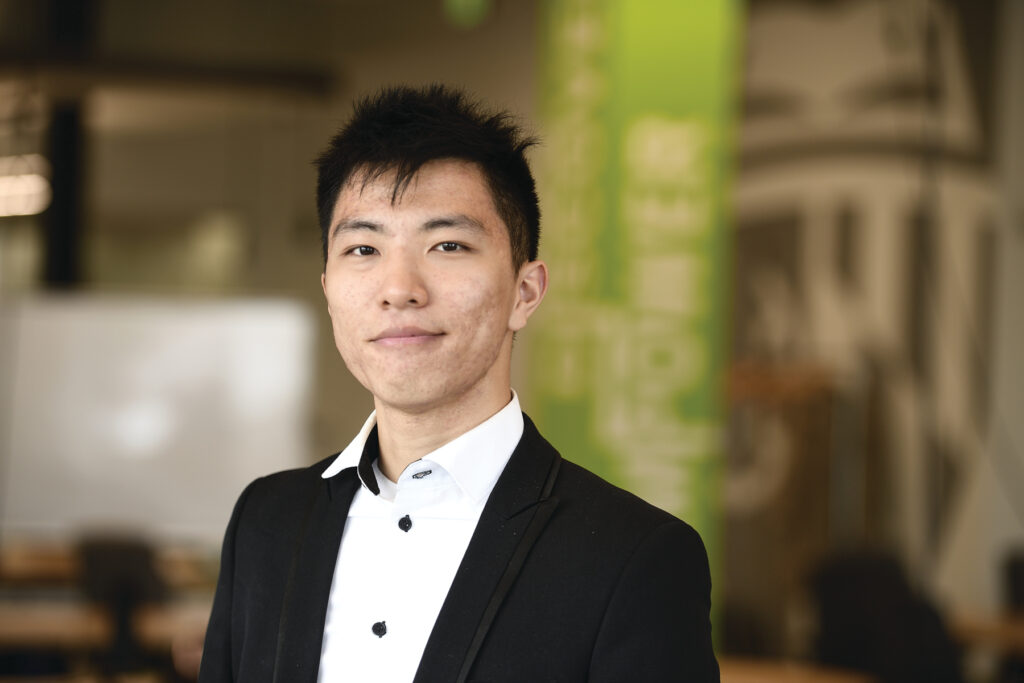 When Chinat Yu's peers were settling in on their first year at Hopkins, he was handing out old-school fliers inviting students to a game so they could get to know one another. "I said, 'Hey, nice to meet you! I created this treasure hunt. Do you want to play?'" recalls Yu, now a senior majoring in computer science. "The treasure hunt accelerated my assimilation into Hopkins. I felt a sense of community right away. It exposed me to so many different people."
Yu, who was born and raised in Hong Kong, would go on to join an a cappella group, get elected to the Hopkins Student Government Association, and create a popular podcast series that helps others feel more connected.
Hopkins Hacks, which he launched at the end of his junior year, offers interviews with faculty, alumni, and students, in which he asks them to share their definition of a successful Hopkins experience. The conversations touch upon the four pillars of college life: work, relationships, health, and play, as interviewees explain how they utilize the university's resources.
"I connected with faculty and students like I never had before, talking for an hour about deep aspects of their lives," says Yu. Encouraging others to share their personal triumphs, challenges, and insecurities with an audience of fellow high achievers felt like the right direction, he says, especially in the wake of the pandemic.
The idea for Hopkins Hacks came after a time of personal loss for Yu. His two grandfathers died a week apart, and soon thereafter he lost the election for senior class president by six votes.
"I realized that what I really cared about wasn't being president but how I could meaningfully engage the communities around me," he says. Throughout his campaign, he "was advocating for mental health and international student representation, and with the show, [I realized] there were more ways I could help."
In fact, many of the episodes of Hopkins Hacks touch on issues surrounding wellness, including his own experiences. In one two-part series, he even put himself "on the hotseat," being interviewed by chief editor Resham Talwar, a sophomore biomedical engineering major. "[People are] surprised by how honestly we talk about mental health on the podcast because of the stigma," says Yu. "I'm radically transparent, whether it's about my mental health or my work. I share ideas, and I don't worry about people stealing them. If someone else can solve a problem, great."
As a first-year student at the height of the COVID-19 pandemic, Yu joined a multidisciplinary team to help develop an augmented reality phone app, Quest2Learn, which allows students to do experiments on smartphones, even without access to lab equipment. Yu became the project lead. In 2020, his team applied to the university for a DELTA grant (a fund for digital education initiatives) but didn't land one. Most of the team moved on. Yu, who was in Hong Kong, and three others stuck with it, rebuilt a team, reached out to a professor for help, and eight months later had a prototype.
"Our project became a course and with our professor guiding us, we were able to push out our first iOS version. We applied for the DELTA grant again and got it in the summer of 2021," Yu says. "It took a second try, but failure is an opportunity for growth. We've had more than 400 students using our app, and we've expanded it into Hong Kong and Baltimore-area schools."
The Quest2Learn work helped Yu land an internship with Microsoft this summer in Seattle. In the fall, he will pursue a master's in learning design and technology at Stanford. His long-term vision for education? "How can we inspire the flame in each student? I see the future as less about standardized exams and more about project-based personalized work. I hope to spearhead that change," he says.
Technology aside, basic connection will always hold value. Yu saved the sheet of participants from his freshman-year treasure hunt. Some of the prize-seekers became lifelong friends, student government collaborators, and Quest2Learn coworkers. "I'll always be part of the Hopkins community," he says, "and I want to give back."