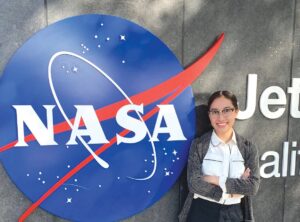 Growing up, Katya Echazarreta MS '22 was fascinated by space, an interest inspired by Carl Sagan's Cosmos, which was her favorite book. But as a teenager, she kept quiet about her dream of working at NASA. When she voiced her aspirations, she saw doubt in people's eyes, so she stopped talking about it.
"I remember wanting it so badly, but more than that, I told myself that I would," recalls Echazarreta, who on June 4, 2022, became the first Mexican-born woman to travel to space on a suborbital flight with Space for Humanity.
Echazarreta, who moved to the United States from Guadalajara, Mexico, when she was seven, decided as a college student that electrical engineering would be her path to space. At UCLA, she landed an undergraduate internship with the NASA Jet Propulsion Lab (JPL), which turned into a job there.
"When I got the email to interview at JPL, I cried," she says. "Everything I had been working for was falling into place."
She applied to Space for Humanity in 2019 as a college senior, but COVID-19 delayed her journey. The nonprofit sends "purpose-driven" leaders to space for a grander perspective meant to inspire their efforts to tackle challenging social issues. During her 11-minute flight late last spring, Echazarreta pinched herself, her Mexican flag tucked in her bag. "Even now, it feels like a dream," she says.
Echazarreta worked on five NASA missions at the Jet Propulsion Laboratory before leaving in September 2021 to focus on science advocacy/education and to begin her master's degree coursework in the Johns Hopkins Engineering for Professionals program. "I needed more education on the professional side of engineering and to network with like-minded individuals," she explains.
Today, Echazarreta, who favors the #steminist hashtag, is dedicated to ensuring that other women and girls, especially minorities, can voice and achieve their STEM dreams. She lectures and hosts her own segment, Electric Kat, on the CBS children's show Mission Unstoppable. She also co-hosts a Netflix YouTube series, Netflix IRL, and consults for Space for Humanity. She hopes to write a book about her untraditional journey to space.
Most meaningful, she says, is when she gives talks in Mexico and sees little girls, dressed like astronauts, recording her every word. "I see how important it is for them to have a role model," says Echazarreta. "Life has given me a huge gift, and I definitely plan to use it for good."