Toothpaste. Play-Doh. A plate of hash browns. "I can get inspired by very common things," admits Allen Y. Wang MS '06, PhD '08, the Global Technical Lead at Ethicon Biosurgery, Johnson & Johnson MedTech.
"I look at a lot of things in my daily life," says Wang, a native of Taiwan. "My brain is always kind of turning, thinking."
Take those hash browns.
During his breakfast at a pancake house near Johnson & Johnson's global headquarters in New Brunswick, New Jersey, the fried potatoes sparked the idea for a solution to a scientific question that Wang had been wrestling with: How could surgeons control the broad oozing of wounds that occurs in more than 50% of all surgeries? Examining the potatoes' woven surface, Wang hypothesized that "a hemostatic powder with a lattice structure like the hash browns on my breakfast plate could cover a larger area and penetrate the blood surface and stop the bleeding quickly during the surgery."
"The hash brown structure triggered this idea that widespread bleeding could be stopped using a small aggregate composed of oxidized regenerated cellulose fibers that break apart after contacting blood."
The result of this breakfast brainstorm became SURGICEL® Powder Absorbable Hemostat, which launched in late 2017 and has since been widely adopted by surgeons in more than 40 countries. When Wang first witnessed the product in use, he was overcome with emotion and wept. "It really touches me to see the impact of my work," says Wang. "I feel like all the years spent developing the product (and it was maybe seven or eight years) really paid off."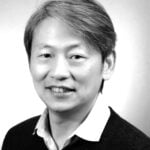 The holder of 70 patents, Wang is motivated by wanting to make a difference through creating innovative medical devices and products that address unmet surgical needs. Wang is also proactive in creating internship opportunities for Johns Hopkins students, so they can witness firsthand the collaborative efforts that go into product development.
Wang, a 2021 Johns Hopkins Alumni Association Distinguished Alumnus Awardee whose many accolades include renowned international awards such as the 2018 gold Medical Design Excellence Award, 2018 R&D 100 Award, a 2020 Johnson Medal, the most prestigious award within J&J, as well as a 2022 Society for Biomaterials Technology Innovation and Development Award, says patience and persistence drive him, and that he owes much of his success to his "very solid training" at the Whiting School. "Dr. Michael S. Yu, my PhD adviser, gave me a lot of freedom and encouraged me to reach out to collaborate and be proactive.
"But I don't let what I've already learned stop me," he adds. "I keep trying to learn new things all the time."