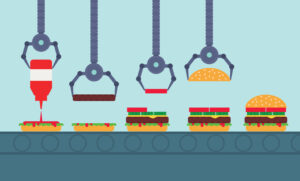 When Atif Kureishy MS '04 was a kid in the 1980s, enjoying a fast-food lunch was simple. His parents would pull into a single-lane, fast-food drive-through, order, and pay in cash. Within minutes, he'd be tucking into a meal of hot chicken nuggets with barbecue dipping sauce, crispy fries, and an icy soft drink.
Quick-service restaurants aren't that simple anymore. The global pandemic, labor shortages, supply chain disruptions, and the popularity of third-party delivery services have challenged the $799-billiona- year restaurant industry. Meanwhile, consumers want more choices about how to order, customize, pay for, and receive their food.
Kureishy's solution? Artificial intelligence.
"The restaurant business is changing and can no longer just throw people at its problems because the labor turnover rates are too high, and the guest experience suffers," says Kureishy, founder of Vistry, a San Diego–based company that uses artificial intelligence and voice ordering to help restaurants improve efficiency, speed, and quality of service. "There has to be another solution, and that's the pursuit of automation and using AI-based techniques."
Artificial intelligence systems are not one-size-fits-all in the fast-food restaurant industry. For one big chain, Kureishy's company is using computer vision to collect data and analytics to track the life span of a french fry to maximize crispiness and reduce waste. To improve order accuracy in another restaurant chain—a problem in many restaurants—he's using deep learning to validate the contents of take-out bags against the original orders before they go to the customer.
And to make the drive-through experience more efficient, Kureishy has developed a system that collects data to understand how long customers are waiting so restaurants can better serve more people faster. "If you think of a fluid dynamics problem, that's exactly what you're trying to turn the drive-through into," he says.
Kureishy completed his bachelor's degree in physics at University of Maryland, Baltimore County, and worked as a software engineer for Lockheed Martin and other companies while earning a master's degree in distributed computing through the Whiting School's Engineering for Professionals program. "The foundational understanding I got from Hopkins got me on the path of being a persistent learner and underpins everything I do today," he says.
It may be a year or two before your local quick-service restaurant will be using some of the systems Kureishy created to improve their food and customer experience. But be warned: Being asked "Do you want fries with that?" at a fast-food joint may soon be a relic of the past. The voice bot he's developed to automate order taking may already know the answer.