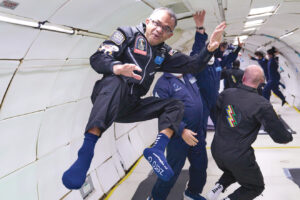 When he was 12, Apurva Varia wrote to NASA to ask if a deaf person could go to space. It had been his dream since watching a space shuttle launch on the TV in his Texas living room.
The response—"No, not yet"—inspired his career as an aerospace engineer. At NASA's Goddard Space Flight Center, Varia is a mission director for three spacecraft: the Parker Solar Probe, the Interstellar Boundary Explorer, and the Lunar Reconnaissance Orbiter. Varia, who was born deaf, is NASA's first deaf mission director for an uncrewed mission.
On Oct. 17, 2021, Varia took several (weightless) steps toward his dream of space exploration as one of two deaf team members of the inaugural AstroAccess Flight 1 Ambassadors program. The program's mission: to make space flight accessible to all.
The 12 Ambassadors on board the historic weightless parabolic (Zero-G) flight included those with mobility, vision, and hearing disabilities. Their goal is to identify, modify, or develop technology to adapt spacecraft for astronauts with disabilities.
"I can't pinpoint a sound or recognize a spoken word, so we need something that notifies me and other deaf members what is happening in space," explains Varia, who is set to complete his Engineering Management Graduate Certificate in the Engineering for Professionals programs in May.
He is helping to develop wearable technology that displays situational awareness using lights and text. He's also working on a solution to the problem deaf astronauts will face in space—and one he faces every day on Earth: how to communicate when not everyone uses American Sign Language.
On the microgravity flight, a light system told him when it was safe to move. "When I felt weightlessness, it was a magical moment. Even though each flight arc was about 30 seconds, I felt closer to space," says Varia. "I want to continue testing until we have the suitable technologies that allow deaf people to perform equally as hearing people do in space."
Thinking back over his work at the GoddardSpace Flight Center, Varia says, "For 13 years, I have loved designing, building, and testing propulsion systems and discovering new science findings." Johns Hopkins' Engineering for Professionals program, he notes, has helped him to expand his technical, project management, and leadership skills.
Fueled by his recent AstroAccess flight and his personal and professional experiences, Varia's lifelong desire to become an astronaut is stronger than ever. "It has been a long and difficult journey because there were struggles that I faced during my life," he reflects. "The important thing for me is to never give up no matter what people say is impossible."