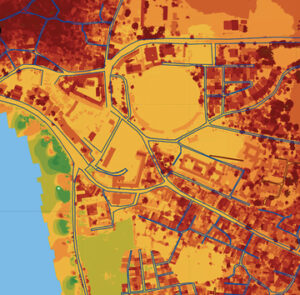 Ayushi Mishra, MS '16, grew up the daughter of academics. Her father held a doctorate in physics; her mother, a doctorate in chemistry. But it is still a long way from the small town in India where she grew up to Johns Hopkins University. When it came time for Mishra to decide what to study, biomedical engineering was the answer. And, in that pursuit, there was only one school for her.
"Johns Hopkins was the place to be," says Mishra, who founded her first startup, Marigold Health, while still a graduate student at the Whiting School. She also met computer science student Utkarsh Singh, with whom she has founded a second startup, DronaMaps, where she serves as chief operating officer today.
Mishra leveraged her interests in emerging technology and product design to found Marigold Health, a mobile platform that uses artificial intelligence to help patients with mental health challenges. The digital health startup, which innovates on traditional one-on-one peer coaching to give patients the ability to converse with each other through text-based chats, found its footing with the support of the National Institutes of Health and recently received seed funding to expand to three states.
To make DronaMaps a reality, Mishra moved back to her home country, where she has hit her stride as engineer and as an entrepreneur. DronaMaps is a policy-level decision support system for government and business that is based on 3D maps captured by drones.
Mishra helps integrate historical data and techniques borrowed from geospatial information systems data from on-the- ground sensors, and even closed-circuit television, to deliver deep insights for sustainable development and governance. Mishra and Singh were both recently named to the Forbes 30 Under 30 list of up-and-coming businesspeople in Asia.
DronaMaps offers a centralized system of data interoperability for a range of public services. It has helped governmental leaders improve property tax equity and fairness in hard-to-reach areas of India, aided farmers in maximizing crop yields, and helped direct home-improvement grants to 16,000 households in poverty- stricken areas of the country. The system has also been crucial to India's response to COVID-19 by tracking patients village by village and using WhatsApp chat, rapid response team tracking, and predictive analytics for vaccination and hospital bed monitoring.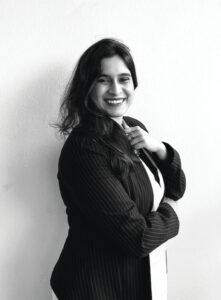 "Such integrated data analysis is only in its early stages. Combining valuable but disparate information to form a backbone of three-dimensional, high-resolution data, such grounded-in-reality applications could change citizen services forever," says Mishra. "Using drones to democratize mapping for initiatives for high-impact organizations, DronaMaps' analytics provide a level of actionable insights not possible before."
Mishra ties the success of DronaMaps back to her formative experiences at Johns Hopkins, the collaborators she would meet, and the mentorship of professors like Lawrence Aronhime at the Center for Leadership Education, who inspired Mishra to believe in herself.
"The most important thing that Johns Hopkins provided," Mishra says, "was a sense of possibility."