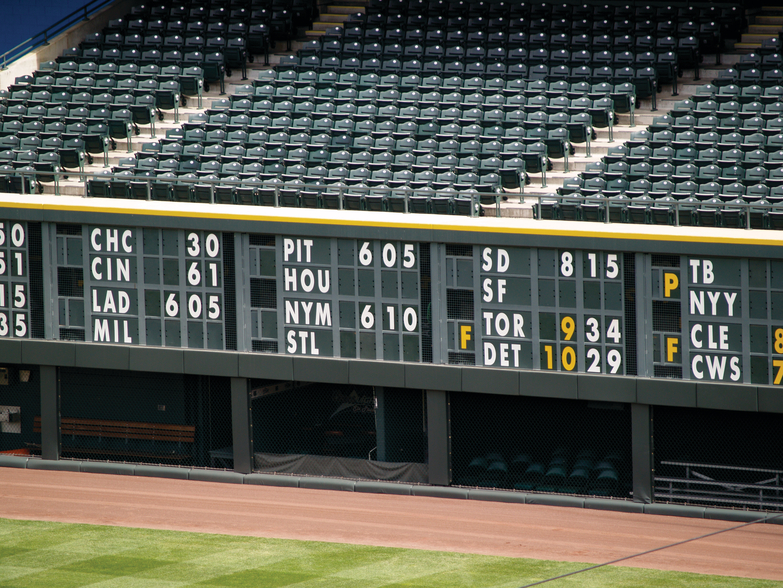 Think of baseball, and you think of numbers. The last player to bat .400 was Ted Williams in 1941. No one's come close to repeating Joe DiMaggio's 56-game hitting streak in that same year. 
Math's importance to the sport is enduring. The statistical recap of each game (or box score) took shape in the 1860s, mere decades after the baseball's invention. Expanding and refining data have gone hand in hand with the sport's growth in the 19th and 20th centuries. 
Baseball's love affair with statistics has deepened in recent decades, as baseball teams have invested in an innovative empirical analysis of statistics, driven by burgeoning technology. (The bestselling Moneyball and its 2011 film adaptation illustrated how organizations now cover this competitive edge.) 
Being part of baseball's data-driven present and future has proven irresistible to Neil Gahart '18. He was promoted in November 2021 to his new position as coordinator of major league analytics for the Miami Marlins. In that role, he provides a crucial link between those who play the game and his colleagues who break down a dizzying array of data. 
Innovations in gathering and analyzing data are key, Gahart says. State-of-the-art technology—such as the Hawk-Eye video system installed at all 30 major league stadiums—offers a granular view of everything that happens on the field. Google Cloud feeds this voluminous information into powerful databases for analysis.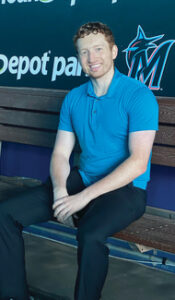 "More sophisticated devices that can track and store a larger amount of data mean there are a lot more numbers we can associate with the game," he says. "That leads to opportunities to use those numbers to drive insights about what's going on—and make better decisions." 
As an undergraduate at the Whiting School, Gahart was an applied mathematics and statistics major with an abiding love of playing and watching the game. "I was a huge baseball fan growing up," he recalls. He sees his job as "a very cool intersection of two passions." 
Johns Hopkins engineering classes were "very demanding," he says, "and because they're demanding, you get a lot out of them." But outside the classroom, Gahart acquired other skills relevant to pursuing a baseball career, including an internship with the Baltimore Orioles. 
A baseball-themed mathematical research project provided another key moment in Gahart's journey. Scheduling games to maximize competitive fairness and minimize the impact of factors such as travel is a perpetual headache for professional leagues. So an initiative started in 2012 by the Whiting School's Anton Dahbura, PhD '84, executive director of the Information Security Institute and co-director of the Johns Hopkins Institute for Assured Autonomy, in collaboration with Associate Research Professor of Applied Mathematics and Statistics Donniell Fishkind, deployed the power of mathematical optimization to build better schedules. 
Students from Fishkind's Introduction to Optimization course, including Gahart, helped create an improved slate of games for a number of minor league organizations. 
"That was the first time where the intersection of [mathematics and baseball] became very clear to me," Gahart recalls. "Having access as a second-year Hopkins undergraduate for these conversations with professors and having the opportunity to do research is an extremely cool thing." 
Gahart's new role with the Marlins brings more responsibility for finding ways to use data to help the team climb the standings. Baseball is still a sport where tradition (and even superstition) hold sway, and accumulated wisdom from years of playing the game is revered. Success as an analyst means getting crucial insights to everyone involved in a way that resonates. 
"You want to make sure that the people who really need those insights are aware of them—and understand them at a fundamental level. You want to build relationships with people. Value their input. Value their insights," says Gahart. 
Wins and losses remain the most important statistic for everyone, so that gives Gahart an appreciative audience. "Everyone in baseball is trying to win," he says. "To try to find an edge. That incentive for every person who's so hungry to win is to try to do everything that will help them achieve that goal."