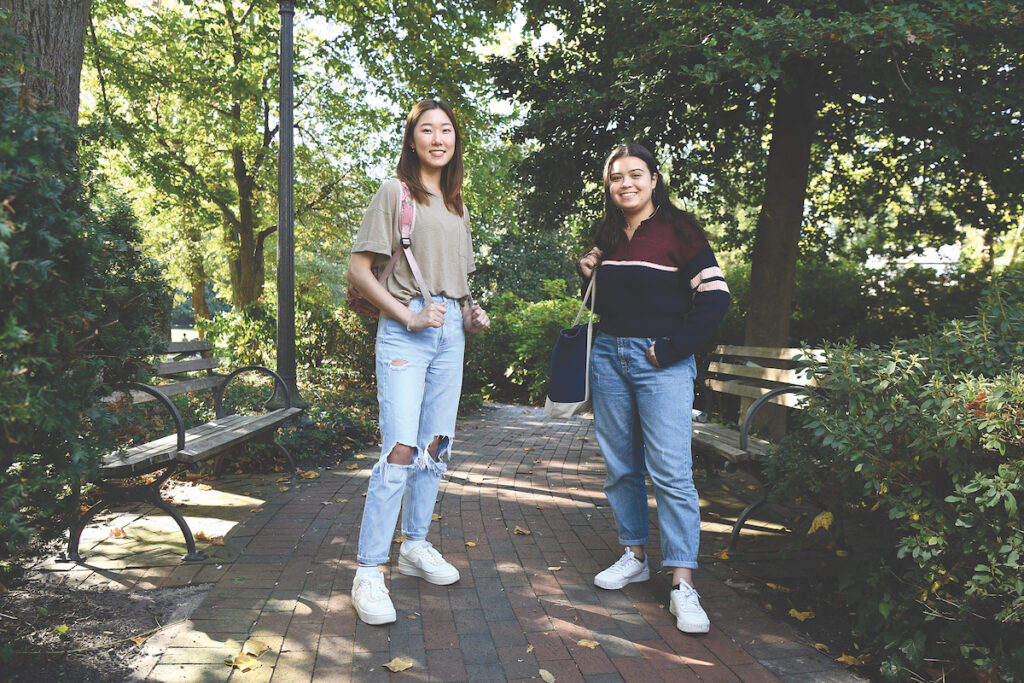 Joanne Baek '22, was nervous about career plans at the start of her junior year. The Chemical and Biomolecular Engineering undergrad needed a mentor to help her navigate options and the challenges she faces as a woman pursuing a future in STEM (science, technology, engineering, and mathematics).
"Most of my mentors at the time were men," Baek explains. Then she heard about the student-created Womxn Mentoring Whiting, a new program at the Whiting School. Created by Rebecca Yu '21, BME and CS, and launched in fall 2020, the program pairs undergraduate students with with juniors, seniors, and graduate student and alumnae mentors in STEM disciplines.
"The fact that WMW is exclusively for women was really appealing to me," says Baek. "It became a safe space for me to talk to other women about concerns I would not have felt comfortable sharing with my male mentors."
The program aims to address ongoing issues of underrepresentation in the STEM workforce — women account for 27% of all STEM workers, according to the U.S. Census Bureau — with regular mentor/mentee check-ins and a robust hybrid program of social gatherings (such as game nights and fun competitions) and professional development opportunities (including a women engineers speaker series and presentations on post-graduation career options).
Yu, who is continuing her research with the Department of Biomedical Engineering's Rheeda Ali while applying to PhD programs in computer science, has big plans for WMW this year. New initiatives will include a focus on research opportunities and a mock interview/resume critique to prepare students applying for internships and jobs.
Yu says her Whiting School mentors, Ali and the Department of Biomedical Engineering's Natalia Trayanova, inspired her to found the mentoring program. "Male engineers tend to speak up a lot more and more often," Yu says of the program that began with 17 mentor/mentee pairs a year ago and has 40 pairs this semester.  "It's easy to doubt yourself as a woman in engineering. Having the support of women who are confident in my abilities made me more confident."
Baek says that her mentor, Rachel Shapiro, a third-year PhD student in ChemBE, helped Baek focus her decision to take a gap year before she pursues a PhD program.
Last spring, Baek began mentoring Elena Skarupski, ChemBE '23, who finds WMW's networking opportunities particularly impactful. "Getting involved in research for the first time was intimidating because I had no prior experience and cold-emailing lab PIs I'd never met was new [to me]," Skarupski recalls. "Joanne explained how to contact labs; hearing her experiences made the process seem more within reach."