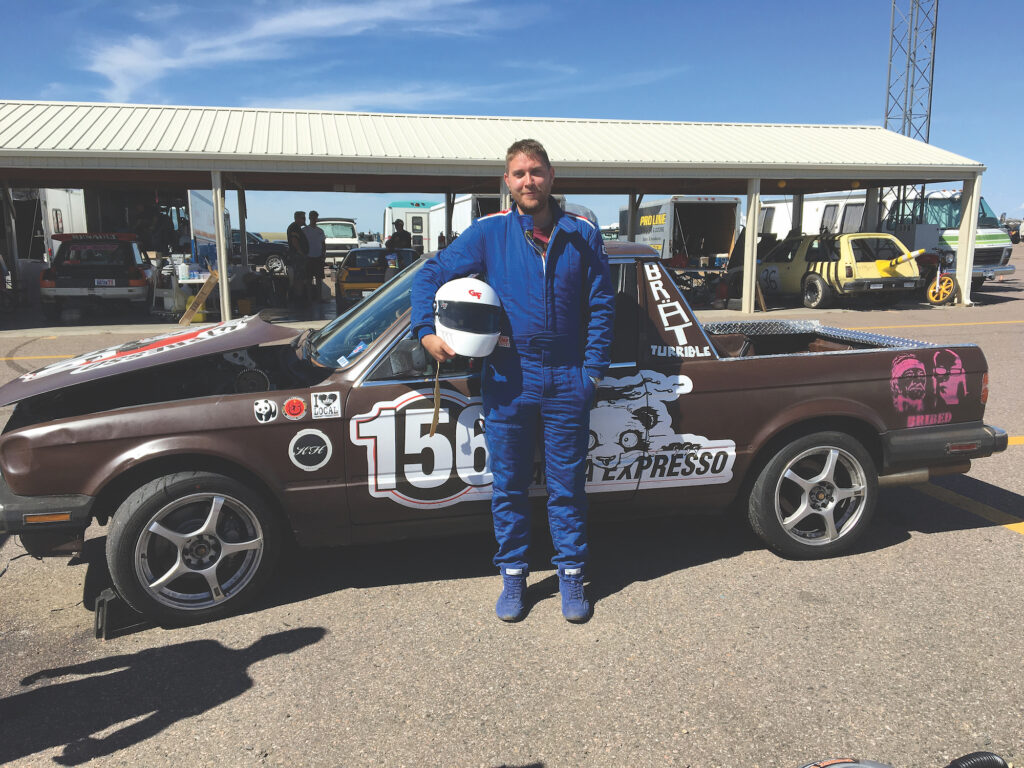 Alex Bishop was just a kid when he first experienced the heart-pounding thrill of navigating a race car around a track through Gran Turismo, an auto racing video game.
Now Bishop, associate staff engineer in the Whiting School's Energetics Research Group, burns rubber at speeds of up to 115 miles per hour in real life from behind the wheel of a souped-up 1987 BMW E30. He's part of a team that competes in 24 Hours of Lemons, a road race held twice a year at the High Plains Raceway outside of Denver.
"The event is themed after the famous French endurance race, though much less serious," he says. "Only cars that cost $500 or less can compete. My brother found ours on Craigslist, and we prepped it by cutting the roof off and adding a roll cage, electrical cutoff switch, and fire extinguishers."
Members of team Panda Expresso also painted the vehicle dark brown and adorned it with decals designed by a Colorado artist and stickers from businesses. A week before the race, the team holds a fundraiser at a Fort Collins brewery, with a percentage of sales of Sad Panda stout beer benefiting the World Wildlife Fund.
"The whole thing is a lot of fun. Winning was never the point of the event, though some people get very competitive," he says.
Though the real LeMans is a 24-hour event, Lemons is split into two eight- to 10-hour days, with each team member driving for an hour or two at a time. The course is challenging, with numerous twists and turns and surprising elevation changes.
"My first time around, I was a passenger, and I didn't expect all the up and down G-forces," Bishop says. "It's nothing crazy, but it definitely makes it more interesting."
Though the pandemic prevented him from racing in 2020, Bishop hopes 2021 will find him back behind the wheel.