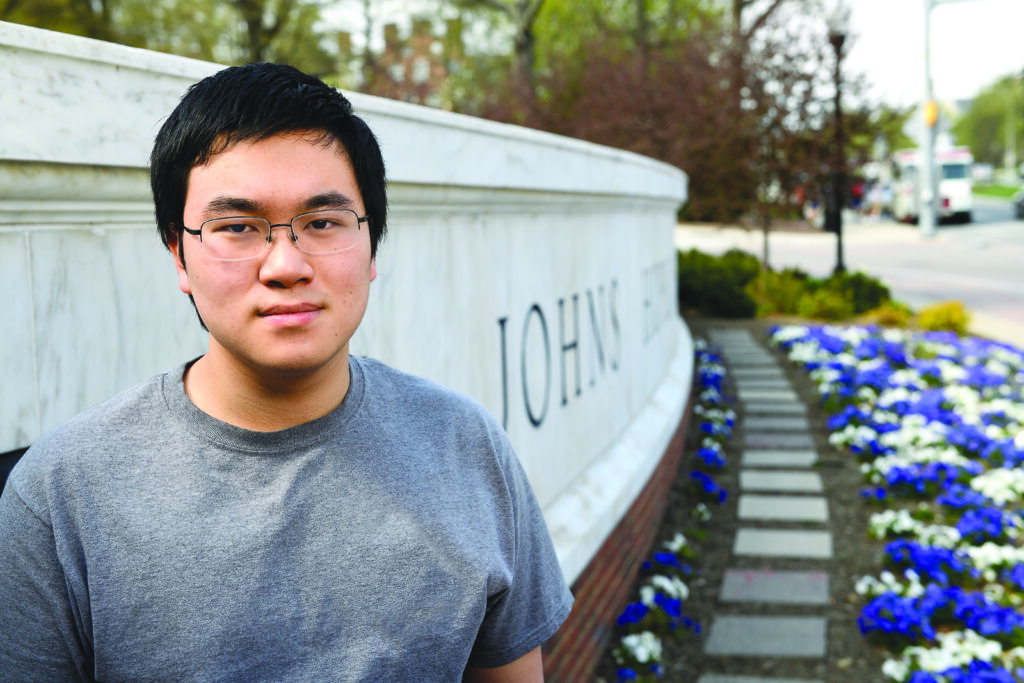 As a high school sophomore in upstate New York, Nathan Wang began taking calculus classes at Rensselaer Polytechnic Institute. Eventually, his desire to apply math to practical problems grew into a fascination with artificial intelligence. Before starting at Johns Hopkins last fall, his project on using deep learning to improve ultrasound tumor ablation advanced to the finals of the 2019 Intel International Science and Engineering Fair.
"For me, AI was the catalyst that finally revealed to me how math and science influence practical technologies, and I was convinced it could have the same motivating effect for other high school students," says Wang, who just completed his first year majoring in biomedical engineering and in applied mathematics and statistics.
"Very few high schoolers have a real depth of knowledge in AI, not because it's especially difficult, but because there are few resources geared toward them and they don't know where to start," says Wang. So he set out to change that.
During his June 2019 participation in Boys Nation, a weeklong deep dive into government in Washington, D.C., for 100 young men selected nationwide, Wang presented a bill he had drafted on K-12 AI education to his congressman, Rep. Paul Tonko (D-NY). Tonko, an engineer, saw the potential and invited Wang to work with his office to incorporate his idea in the National Defense Authorization Act.
The bill, which became law on Jan. 3, 2021, includes the AI Education Act, which directs the National Science Foundation to offer grants and other support to develop AI-related curriculum and programs for K-12 students to gain AI skills, experience, and a deeper understanding of the field's ethics and social implications.
Now, Wang is working with researchers at Johns Hopkins and Stanford to create AI courses for high school students in Baltimore and across the nation. "AI inspired me to pursue a career in science, and I know it will have the same effect on other students," says Wang, who aims to serve as an intern in Tonko's office this summer to continue his advocacy for AI education.
"As an illustration, imagine you are trying to build a house," he explains. "Even if you have all the raw materials, it's impossible without tools. Similarly, students have sufficient raw knowledge in math, biology, chemistry, and engineering, but how can you expect them to construct innovative solutions without being aware of the powerful computational tools literally at their fingertips?"