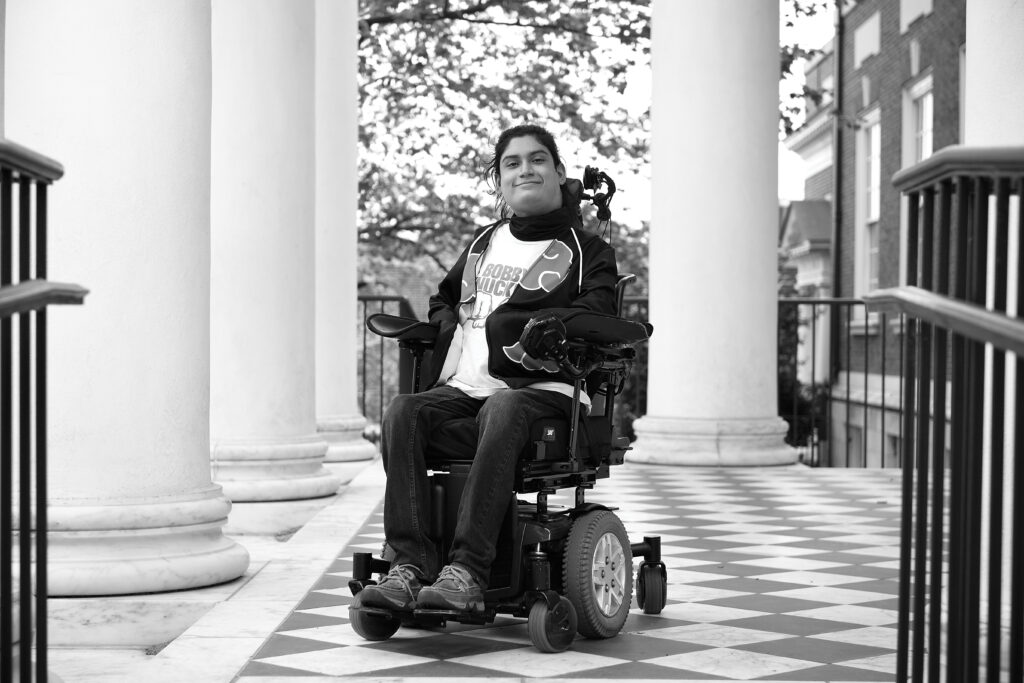 What is a disability? For Isaac Diaz, a second-year chemical and biomolecular engineering major from North Carolina, it is a mysterious illness that developed suddenly when he was 11, leaving him paralyzed. For Maryland native Fatima Ceesay '21, also majoring in chemical and biomolecular engineering, it is an anxiety disorder that only became apparent and started seriously interfering with her work after she came to Johns Hopkins.
There is great diversity when it comes to conditions, from autism to mood disorders, from dyslexia to missing limbs, that can interfere with the ability to fully participate in university life. But different as their needs might be, both Diaz and Ceesay are ambitious students who refuse to be defined by their challenges. And they say the accommodations and philosophy of inclusion provided by Student Disability Services, on the Homewood campus and university-wide, have helped make it possible for them to thrive.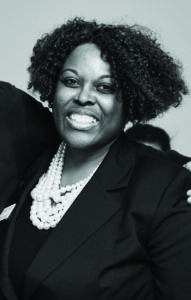 Their guide through the process is Terri Massie-Burrell, who heads disability services at Homewood and is currently serving the needs of some 700 students. Massie-Burrell acknowledges that the number of students with disabilities who would likely be eligible for services is probably far greater, but says that many fear being identified as disabled.
"Our goal is to change the way disability is seen—not as an impairment, but as part of a student's unique identity, just like race and gender and class and all of the other differences that contribute to the richness of the culture," she says. "Also, it's only part of a student's identity and only part of their experience. You can have two students with the same disability, for instance, with very different needs."
Massie-Burrell says many barriers aren't immediately obvious and often relate to other aspects of identity, like socioeconomic status or race.
"To do our jobs well, we have to understand and serve the whole student. Suppose you are the first person in your family to go to college. What are the financial and social pressures you are experiencing?" she says. "What if you are deaf and a police officer asks you to stop, and it appears you ignore him because you didn't hear him? What if you are a tall African American male with autism in an encounter with the police?"
Massie-Burrell has had her own experience with barriers. She was born without one of her hands and uses a prosthesis. "I often come to a door carrying a package and have to use that handicap button," she says. "It's amazing how many things require two hands."
She says her job is intense, detail-oriented, and endlessly creative. The Centers for Disease Control and Prevention estimates that one in four adults has a disability, and anyone can develop a disability of some kind at any time. And though Massie-Burrell's office also serves as a resource for faculty and staff members who are looking for ways to better serve students, she says the best way to find out what students with disabilities need is to ask them.
"One of the slogans of the disability community is 'Nothing about us without us,'" she says. "We have some very, very bright students here who want to be as involved as possible in making certain we are providing appropriate services."
Not 'Less Than'
For Ceesay, it took a while to come to terms with the fact that something was wrong. "Things that were easy for me in high school were suddenly very difficult," she says. "I was struggling with my course work, having trouble focusing, and developed really bad test anxiety, both leading up to the test and in the exam room. I would actually get chills and shortness of breath. I was having anxiety attacks without even knowing what they were."
Reluctant to acknowledge what she was afraid would be the stigma of a disability, Ceesay tried other support services the university provides, including working with tutors and even a study consultant to help her manage her time.
"I was afraid to get diagnosed because I thought if I had a disability, I would always be 'less than,'" she says. "But my wonderful academic adviser, Denise Shipley, encouraged me to get tested because the university can't provide accommodations without documentation of a disability. So, I finally saw a professional and was diagnosed with generalized anxiety disorder, which allowed me to register with Student Disability Services, at which point
my whole perspective changed."
First, Ceesay got the accommodations she needed, including access to PowerPoint slides and notes as well as recorded lectures for each of her courses, which has become the norm during the COVID-19 pandemic (to the joy of other students who have trouble focusing). "I don't panic when I zone out during a lecture because I can now go back over the material and really master it," she says.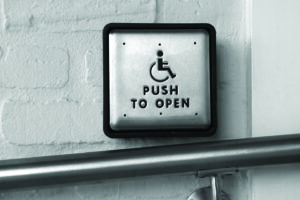 As for testing, the rustle of papers, the whispers, the small sounds other students might make to express their own worry or confusion, and even the awkwardness of lecture hall desks that don't quite fit her 5'11" frame contributed to Ceesay's panic. Now she gets more time as needed and the chance to take tests in a quiet environment—at home, during COVID-19, using technology that includes lockdown browsers all students are required to use when taking exams remotely to prevent cheating—and when it becomes possible to do things on campus, in one of Homewood's recently expanded SDS testing rooms.
Second, she discovered that she was far from the only person on the Homewood campus with a disability. She came to embrace the idea that, far from a stigma, disability is an aspect of identity, of our great human diversity, and deserves respect, accommodation, and care.
"Because I had such a great experience with Student Disability Services," she says, "I applied to become a student assistant at the Homewood office working with undergrads, and I have learned so much," she says. "It has challenged my ideas of what is 'normal,' and it's made me a lot more comfortable with the idea of having this so-called invisible disability."
Creating a Flexible Environment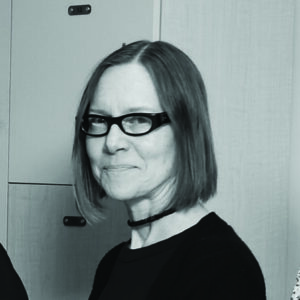 When Catherine Axe was hired in March 2019 as JHU's first university-wide executive director for Student Disability Services, a big priority for students was relocating the Homewood campus office. At the time, it was on the third floor of Garland Hall, a building with only one elevator.
"The SDS Homewood office has since moved to the first floor of Shaffer Hall to a larger space with an accessible, single-use restroom just across the hall," says Axe. "The new office also has expanded capacity to administer exams with accommodations and an area where students can wait for appointments or study. It was great to be able to relocate to a larger, more accessible, and functional space."
Last year, Axe also hired an assistive technology/alternate format specialist, Kamran Rasul. "Having Kamran on board is a lifesaver," says Allison Leventhal, the Student Disability Services coordinator for the Whiting School's Engineering for Professionals programs. "He knows and understands the technology that's available, so he is able to work with me and the students I serve to solve their problems. I don't have to do that kind of research, which is not my expertise. Plus, he works with all of us—students, staff, and faculty—teaching us how to use these technologies."
Leventhal is a great fan of JHU's Universal Design for Learning Initiative, spearheaded by faculty members, many of them engineers, who early on embraced the idea that teaching techniques should be as flexible as possible to accommodate the different ways students learn.
"How can we make it so fewer people need accommodations because the environment we've created is itself flexible?" Leventhal says. "Some of the technologies we recommend for students, like software that turns textbooks into audiobooks, are things I would have loved as a student, not because I identify as having ADHD, but because it's just cool."
Other benefits of technology are more efficient ways to ensure that students get the accommodations they need, and Axe and her team have implemented a new university-wide database called Accommodate to do just that. "It was a major undertaking, and it's still in the early stages," she says, "but it should make it easier for students, and for faculty who need to coordinate exam accommodations. And we've just begun to explore its potential."
'Like Being in a Dream'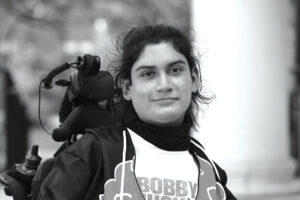 Diaz, who will be a third-year student next year, says he appreciates the ease of using Student Disability Services.
"It's really nice because they have a letter written up with all of your accommodations, and each semester, I just send that letter to each of my professors. Otherwise, I would have to email each professor and ask them for accommodations and, because I can't write and therefore use a scribe, which means it's from my mind to their hand, it would take a fair amount of time. So, it's a very effective system," he says. "Plus, the people in the SDS office are really nice."
In contrast to Ceesay, Diaz has been disabled since middle school. An active, athletic child, he loved sports, and he loved working with his hands, helping his father, who is a machinist, fabricate things and helping him to change the
oil in their car.
One Sunday when Diaz was 11, he was in church with his family, playing the piano for the service as usual, when suddenly he couldn't breathe, and his body stopped functioning. His father rushed him to the hospital, where he was put into a medically induced coma.
"Two weeks later, I woke up and couldn't move," he says. "It was like being in a dream. It's one of the few times in my life I've seen my father cry."
No one was quite sure what was wrong. At first, he was diagnosed with Guillain-Barre syndrome, a rare disorder in which the body's immune system attacks the nerves. More recently, his JHU neurologist diagnosed him with acute flaccid myelitis, possibly caused by an enterovirus. But there is no known treatment, and Diaz has been a wheelchair user, without the use of his arms and legs, ever since.
"I was an outdoors kid, always moving," he says. "When this happened, I really poured myself into my studies, especially science and math. I knew that education was the key to my future."
Because he can't physically write, he worked on improving his memory to the point where he could do complex math equations in his head. He did so well in school that he was named one of the nation's 161 U.S. Presidential Scholars and was awarded a full scholarship to JHU. His high school classmates elected him prom king and voted that he deliver their graduation speech.
Diaz would agree with Massie-Burrell that disability is only one—and maybe not even the most important—aspect of his identity. "I know people see me in the chair, and that's the outside perspective," he says. "But I try not to dwell on it."
He is the child of parents who emigrated from Mexico in 1995. He has one older brother, whom he adores, who is now working as a chemical engineer and was his inspiration to study engineering. He and his brother are the first in their family to go to college. "Our parents don't have a lot of money, and it's obviously hard for me to get a job, so I rely a lot on the financial aid from school," he says. In fact, during COVID-19, his mother left her job and moved from their home in North Carolina to Baltimore to care for him because his parents worried about outside caregivers exposing him to the virus.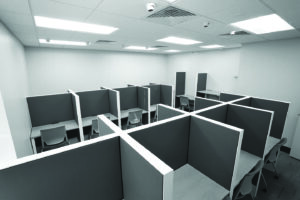 Diaz finds the JHU campus very accessible, though he notices that many Baltimore streets lack curb cuts and says his friends can take shortcuts on campus—up stairs, for instance—that are impossible for him. Among his accommodations were an accessible dorm room (before COVID-19, when he relocated to a nearby apartment), an adaptive tray for his laptop, testing accommodations, and permission to leave class early to get to the next class on time.
And though he is grateful for those accommodations, he doesn't expect to need them forever. AFM is a relatively new diagnosis, still poorly understood. Like Ceesay, he is majoring in chemical and biomolecular engineering. Ceesay says she chose the major because she has always been interested in medicine and wants to make a contribution to the field as an engineer. Diaz says he wants to do biomedical research. "One of the reasons I keep studying," he says, "is that I want to find a way in the future to fix myself and other people suffering from paralysis."
Leventhal says students like Ceesay and Diaz are her inspiration. "The reality is that our students at Hopkins are brilliant," she says. "They're the ones who are going to come up with the great inventions of our time. My colleagues and I in Student Disability Services are just trying to level the playing field for them, and I see that as our contribution to their incredible journeys."