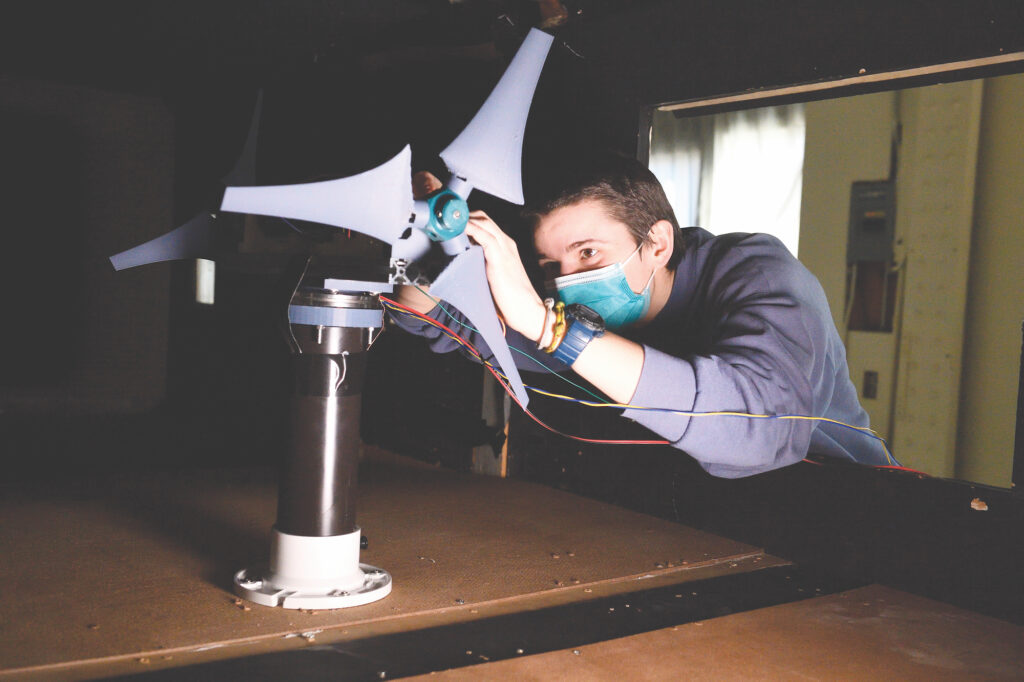 Like many her age, Willa Grinsfelder '21 grew up with the understanding that she is living in a world with a rapidly changing climate. In high school, she led canoeing trips for young women in the lake country of northern Minnesota. After starting college, over the course of three summers, she watched the weather and ecology of a place that she loved change drastically; large storms took down many of the area's white pines, and lake levels seemed to drop each year.
"Climate change isn't an abstract concept anymore. We're experiencing it ourselves, and students come to Johns Hopkins looking for ways to address the catastrophes they've seen in their own communities or heard about across the globe," says Grinsfelder, a mechanical engineering student.
While a third-year student at Johns Hopkins, she volunteered at Southwest Baltimore Charter School, where she mentored students through the process of designing wind turbine blades, and she gained a better understanding of how she could play a role in wind energy. Now, she is helping like-minded students prepare for careers in the renewable energy industry through the student-run Hopkins Student Wind Energy Team, which she co-founded last year.
"In our classes and labs, we learn the technical skills, but there's still a knowledge gap regarding what it really looks like to be an engineer working in renewable energy. My goal in creating HSWET was to help students identify the ways that they can mold their undergraduate education to prepare for careers in renewable energy," says Grinsfelder.
With 25 members from several departments, HSWET is now focused on preparing to compete in the 2021 U.S. Department of Energy's Collegiate Wind Competition, to be held in June. The team is tasked with designing and building a miniature wind turbine, developing a plan for a hypothetical 100 megawatt wind farm in South Dakota, and hosting outreach and networking events.
Grinsfelder is one of three students leading the wind turbine design portion. Since the competition will be held virtually this year, the team will test its turbine in the campus wind tunnel in Maryland Hall and present its results at the American Wind Energy Association's CLEANPOWER virtual conference in June. But the team is not just about competing: Grinsfelder hopes it will also provide students with resources and connections at Johns Hopkins and beyond. During the fall semester, she recruited industry mentors from GE Renewable Energy and other companies.
After graduation, Grinsfelder will intern at Natel Energy, a California-based startup that develops innovative hydropower systems. Eventually, she envisions herself in a position where she can work on mechanical design of wind energy systems.