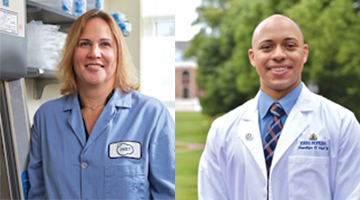 The Howard Hughes Medical Institute's Gilliam Fellowships are awarded to student-mentor pairs and recognize students who have the potential to be leaders in their fields, while also supporting the development of a more inclusive academic scientific ecosystem.
This year, the Whiting School's Sharon Gerecht, the Edward J. Schaefer Professor of Engineering, and her advisee, biomedical engineering doctoral student Franklyn Hall, received this honor. The award provides each student-mentor pair $50,000 annually for three years. Gerecht, who is also director of the Institute for NanoBioTechnology, will use the funds to create professional development activities and training for students from backgrounds that are traditionally underrepresented in the sciences and for their faculty mentors.
Hall will use the funds to help create in vitro models for patients with the genetic disorder Marfan syndrome. "The fellowship allows me to overcome the limitations of the materials and techniques used in the lab today to pursue challenging scientific questions as I work to complete my thesis," says Hall.