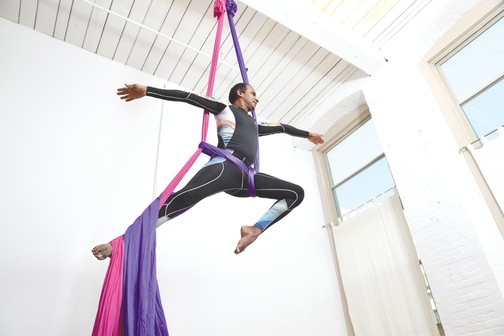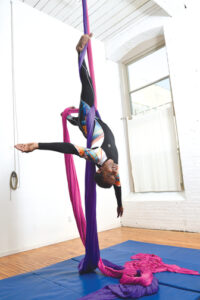 Most people scared of heights simply avoid them. Not Sathappan Ramesh. Instead, he regularly performs feats of acrobatic skill suspended 26 feet above the ground on a long strip of fabric.
Ramesh is a practitioner of aerial silks, an artform that blends dance, yoga, circus skills, and choreography to create something entirely new. Clad in compression tights custom-painted in ethereal designs, he performs climbs, wraps, and drops in routines set to music ranging from Carl Orff's "Carmina Burana" to Yanni's "On Sacred Ground," while audiences stare from below, transfixed.
"This gives me a sense of artistic and spiritual accomplishment—something like a sculptor must feel," says Ramesh, senior laboratory coordinator in the Department of Electrical and Computer Engineering. "I consider the aerial apparatus like a deity, because it protects me and keeps me safe."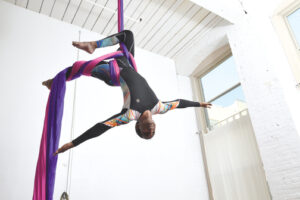 Ramesh learned about this art form in 2009, when friends invited him to a workshop. Initially reluctant due to his fear of heights, he was surprised to fall in love with the experience. He began to take classes, even training at Vermont's New England Center for Circus Arts. In nonpandemic times, he performs regularly at Mobtown Ballroom and at other local studios.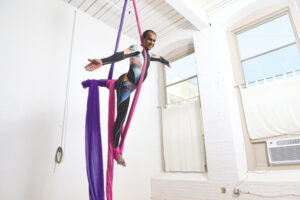 Though aerial silks is definitely an art, his background in physics helps him appreciate the science involved. "I use physics to do things like spinning, rotating, mounting, and balancing," he says. "But you don't need to know advanced physics or equations to do aerials. You just learn the techniques, be strong and flexible. And practice—a lot!"