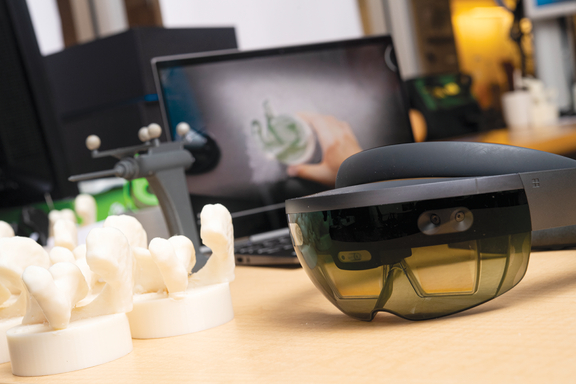 What do Zoom, the iPhone, and the Johns Hopkins COVID-19 tracker have in common? They all "offer a pleasant and smooth user experience," according to Mathias Unberath, an assistant professor of computer science.
To prepare future engineers to design similar technologies, Unberath developed a new course on human-centered design for artificial intelligence systems, which was offered last spring for the first time. The course teaches students to design, develop, and train an AI system that could benefit someone's life or help solve a real problem.
"Students must design their algorithms with the end user's needs and wants in mind. What true problems are people facing, and how do people want to interact with technology?" says Unberath, a member of the Malone Center for Engineering in Healthcare.
One student team created an application to boost the quality of early education for children. "Barry" is a virtual talking teddy bear that collaboratively creates new stories with children using AI. It uses GPT-2, a state-of-the-art dialogue generation model created by OpenAI.
The team members—fourth-year computer science majors Idean Labib, Eyan Goldman, and Dorothy Hu—trained their model on a custom dataset built from children's stories and excluded certain words to ensure the stories would always be kid-friendly.
Hu says that until COVID-19 forced everything online in the middle of the spring semester, the team had intended that Barry take the form of a physical stuffed animal. But the pandemic revealed to the team a new path forward for their design.
"Young children now need to be educated at home, and we realized parents might not have the resources to do this themselves," Hu says. "Our research problem then became: How can we help parents educate their children during this pandemic? So, Barry became an online learning partner that users can easily access at home."
Other student solutions that could be useful during the ongoing pandemic included an app that helps users learn a language in a context they care about. For example, while browsing an online forum such as Reddit, a user can ask the bot to translate any content on that site into the language they want to see. Other designs included a system that maximizes the efficiency of grocery store runs and Terrazzo, an online platform to improve the way university professors track their students' comprehension and progress in course material.