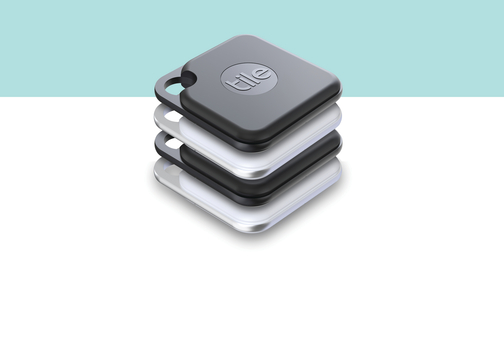 Sometimes people stop Steve Klinkner '86 on the street or in the store and thank him for helping them find their keys or phone that morning.
As the vice president of engineering for Tile, Klinkner gets a sense of just how widespread the company's Bluetooth tracking devices have become when he wears one of the company's branded T-shirts. Tile is the most popular personal item tracker on the market, with more than 30 million devices sold worldwide. The discreet plastic tags hook onto keychains, slide into wallets, and attach to remotes, cameras, or any other device that has a tendency to wander.
"It's kind of a feel-good product," Klinkner says, noting that relieved customers will often email the company to share their tales. There was the professional musician whose violins were stolen out of the back of his car with a Tile in the case, allowing him to track them to a stranger's address and notify police to retrieve his instruments. There was the motorcyclist who rediscovered a Tile-tagged bag lost on a 10-mile stretch of road into the woods. "Those kinds of things happen all the time," he says.
After graduating from the Whiting School with a BS in computer science and electrical engineering, Klinkner went on to earn master's degrees in computer science and electrical engineering from Purdue University. Tile isn't the only word-of-mouth famous company he's worked for: He previously spent time as senior director of engineering at social gaming company Zynga, home of apps like Farmville and Words With Friends.
"What got me intrigued about Tile is that the software can run on any Bluetooth device, so computers, phones, and laptops can all be part of a broader lost-and-found system," he says. "So the path we've been pursuing is enabling tracking on as many things that people want to find as possible." For example, he says, Bluetooth headsets are small and easy to lose but can easily be made findable with Tile technology. In January, Tile began working with Hewlett-Packard to put Tile technology into laptops.
Klinkner envisions a secure worldwide finding network that anyone can participate in through Tile, yet in a way that preserves users' privacy. Missing electronic devices would be able to report back to their owners privately, and people who found objects would be able to alert owners through anonymous, encrypted messages. In the future, as electronics get smaller and easier to lose, strangers might end up thanking Klinkner for saving a lot more than the time lost hunting for misplaced keys.