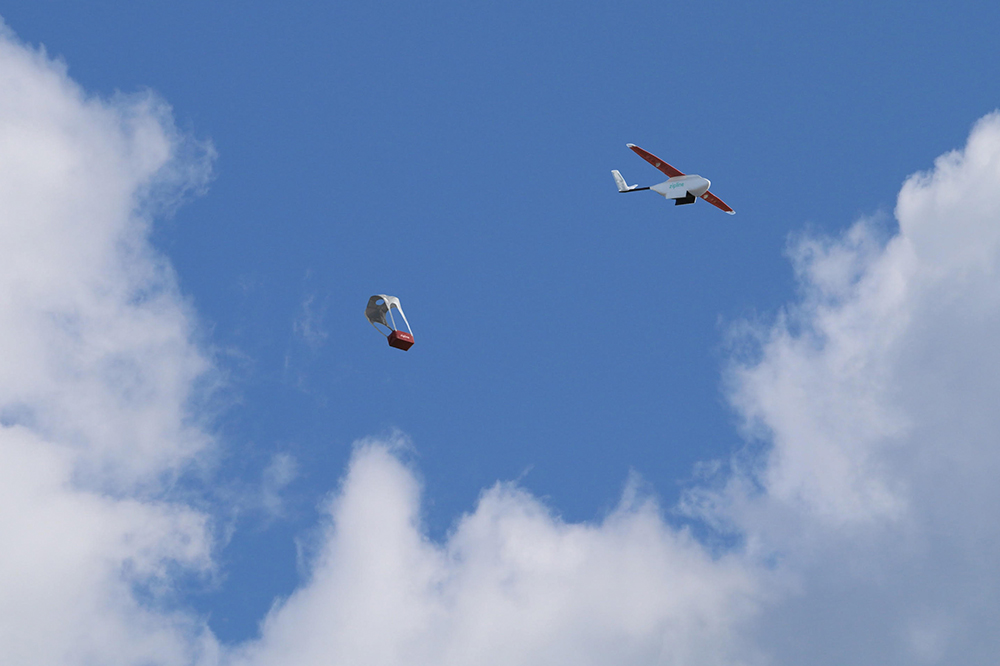 In October 2016, drones started scattering across rural Rwanda. They launched throughout the week, as many as 50 flights a day, traveling miles from their base to locations deep in the countryside.
The drones weren't doing what you might expect: assaulting enemy combatants. They were doing the opposite: dropping vital supplies to clinics that couldn't obtain them by other means.
The small, autonomous controlled aircraft are the product of Keenan Wyrobek '03 and his California-based company, Zipline. Wyrobek and co-founder Keller Rinaudo were motivated to start the company after learning about the medical conditions in under-resourced countries. Physicians frequently cannot help patients because they lack basic supplies taken for granted in wealthier nations.
In one such example, notes Wyrobek, a child with a minor infection came to a clinic that lacked topical antibiotics—easy for Westerners to retrieve at the closest pharmacy. Three days later, the infection had spread so badly that the child's leg had to be amputated.
In countries such as Rwanda, transportation networks are limited. Their dirt roads become impassable during the monsoon season. Half of all attempted medical deliveries are scratched. Wyrobek realized that drones could reach these areas quickly and reliably.
Funded with venture capital money and by selling the service to the Rwandan government, Zipline has a fleet of drones capable of flying up to 93 miles round trip, and carrying a load of up to 3.3 pounds.
Because Rwanda is relatively small, the entire country can be served with just two distribution centers. Wyrobek says plans are in the works to give the drones greater reach and capacity, as well as to expand to other countries.
He credits his time at Johns Hopkins for helping him ask the right questions to create Zipline's services.
"One class that was particularly helpful was called Surgery for Engineers," he says. "It was life-transforming for me in thinking about the needs of a health care system before designing a solution. You learned the importance of engaging with partners, knowing what their problems are, and solving them in a way that's elegant and efficient."