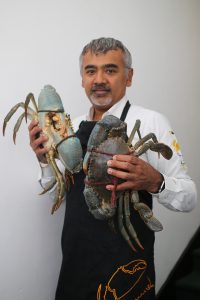 When it came to making sure he ate well as a Johns Hopkins undergrad, necessity truly was the mother of invention for Dharshan Munidasa '94. The Tokyo native, who earned a double bachelor's degree in computer engineering and international relations, taught himself to cook after finding cafeteria food not to his liking.
He learned how to re-create the homestyle Japanese fare of his childhood, becoming a stickler for quality when it came to the ingredients. By his senior year, his dorm room had become a popular destination for lovers of authentic Asian cuisine.
Today, Munidasa is one of Asia's most celebrated chefs and the owner of five restaurants in Sri Lanka that consistently earn critical acclaim. Two of his restaurants, Ministry of Crab and Nihonbashi, are listed on Asia's 50 best restaurants and have held top spots in the Miele Guide, Asia's first independent restaurant guide. Ministry of Crab, which opened in 2011, is noted for celebrating the oversized Sri Lankan lagoon crab, sought after by seafood lovers across the globe.
More than 20 years after those dorm-room experiments, he says, a slow-cooked chicken curry favored by his college roommates appears on the menu at Kaema Sutra, Munidasa's street food–inspired restaurant. And the roast chicken dish he labored over as a student has become one of Kaema Sutra's signature entrees.
"What I find most satisfying about being a chef is bringing smiles to those who enjoy what I cook. It is not every day that you get to bring someone an experience that is both unique and memorable," says Munidasa. "What I find most challenging is achieving consistency, especially with crab meat. There never is a fixed recipe to make the crab dishes, as the salinity of each crab varies, and every crab being cooked has to be checked for this. By continuing to perform these checks," he says, "we do our best to stay consistent."
While he clearly has found his calling as a chef, Munidasa says he learned something in his engineering classes too.
"What I studied at Hopkins, I use every day," he says. "I am someone who cannot use AutoCAD, but I have continued to design restaurants over the past 21 years. I have designed about eight kitchens to date, and all of them start off as a scale drawing in Excel."