Jay Gould, a professor of photography at the Maryland Institute College of Art, traded his Mount Vernon studio for space in the Whiting School of Engineering's Malone Hall in 2016 as the first Artist in Residence for the Hopkins Extreme Materials Institute.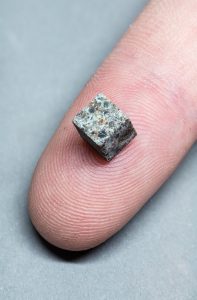 The program is part of an initiative launched in 2015 called the HEMI/MICA Extreme Arts Program. The goal is to foster collaboration between the two institutions and create a stronger community through a shared sense of curiosity and exploration.
"The common ground between art and science is that the audience sees a polished end result," says Gould, "whereas the makers know the nitty-gritty details and failures of a working process."
In all, Gould spent six months getting a feel for the HEMI environment and capturing it via his camera lens and other artistic mediums. His interest in the Extreme Arts Program stemmed from a natural curiosity surrounding science and engineering that he's had since childhood.
HEMI Associate Director Lori Graham-Brady and Gwynne Keathley, MICA's vice provost for research and graduate studies, designed a two-prong program: It provides an internship for students and the Artist-in-Residence program for faculty members. HEMI Director K.T. Ramesh, the Alonzo G. Decker Jr. Professor of Science and Engineering, long has supported the integration of art and engineering, and is known on Homewood campus for requiring his PhD students to submit an artistic interpretation of their research—anything from poems to painting to dance—along with their book-long theses.
To date, four MICA student interns have completed projects over two summers in areas such as animation and materials design, and Gould completed his term as the first Artist in Residence in 2016.
While the internship program concludes with a short presentation, Gould's artist in residence period is expected to result in a few different deliverables: an exhibition of his work (slated for 2017); a small published run of books for the project, expected in early 2017; and an installation of some of his pieces in Malone Hall.
"I'm hoping that my work bridges the gap between researcher and layman. Working with HEMI has allowed me to be an interpreter of sorts for their community," Gould says.