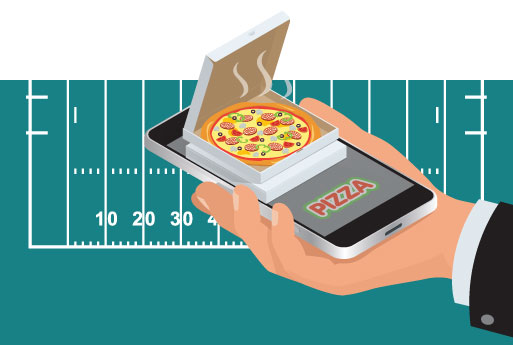 On Super Bowl Sunday, David Gibbs '85 and his wife, Sharon, of Dallas, Texas, were in the stadium, watching the game unfold.
But while most of America was focused on the showdown on the field, Gibbs, then CEO of Pizza Hut Inc., was keeping close tabs on his cellphone. "I was getting minute-by-minute updates," he says, "so I could see how we were trending."
Pizza Hut achieved its own Super Bowl goal that day by setting a single-day digital sales record—selling $12 million in food across digital platforms alone, up from $10 million the previous year. The victory was sweet for Gibbs, since promoted to president and chief financial officer of Yum! Brands, because Pizza Hut has faced stiff competition in recent years from Domino's Pizza.
Pizza Hut's digital success holds interest on the Homewood campus. Two of the company's 11 CEOs are graduates of the Whiting School—Gibbs and former CEO Allan Huston Jr. '66—and they acted as bookends, of sorts, to the company's online commerce efforts. Huston, now retired and living in Dallas, served as the company's CEO from 1992 to 1996. It was under his watch that Pizza Hut in 1994 was credited with the first online purchase in the United States.
Huston and Gibbs share more than a Johns Hopkins diploma. Both focused their studies on engineering and applied mathematics, played two sports—Huston played basketball and lacrosse, and Gibbs, basketball and tennis—joined fraternities, and rose through corporate America's ranks using their engineering and analytical skills.
A Johns Hopkins engineering education, with its emphasis on cross-disciplinary inquiry, they agree, provided both men with the solid analytical foundation needed for the tumultuous world of global business.
Today, Gibbs views global business as "one big math problem." For example, digital sales are "climbing every day," with online sales accounting for 50 percent of total revenue, up from 30 percent two years ago, he says. These transactions provide a treasure trove of data that can be analyzed to help the company respond more quickly to consumer preference.
Gibbs' advice to current students? "Change is occurring much more quickly today. But you can't fear change; you have to embrace it, and you even have to cause it."