Sixth-grader Ryan Boyce eyes the tangle of straws, wooden dowels, and duct tape in his hand. He's sitting in a classroom at Barclay Elementary/Middle School, where his science class, along with 13 Johns Hopkins undergrads, is tackling an engineering challenge: Each team must create a working claw with moving parts that can lift trinkets and place them into a tub. Next week the student teams will compete against one another to demonstrate agility and speed.
Boyce wants to trim one of his dowels. Mingyu Yang '19 peers over: "Explain to me the rationale behind cutting it."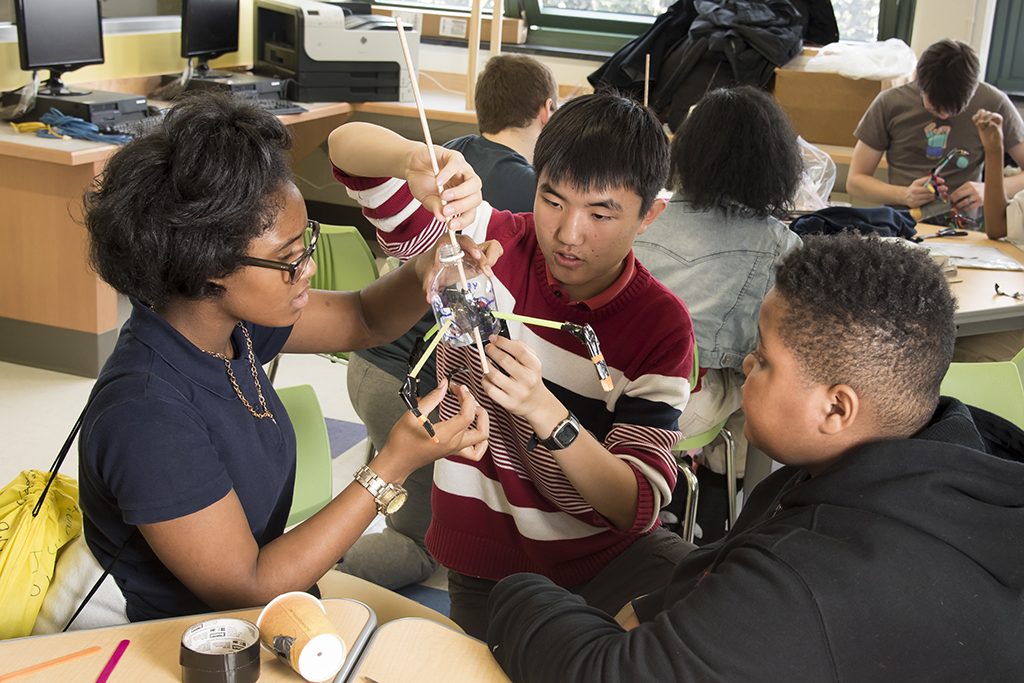 "Because I want them to be, like, almost the same size," Boyce replies.
"What's the benefit of having them the same size?" queries Yang.
"We'll have better control," Boyce explains. Yang nods, Boyce cuts the dowel, and the claw is off and running.
The exchange illustrates the reason that Yang and his fellow undergrads signed up for this one-credit Intersession course—to learn the ins and outs of teaching STEM subjects.
The course is part of a 10-year, multimillion-dollar partnership between the Whiting School and Barclay targeting higher achievement at the school and stronger neighborhoods around the Homewood campus, featuring proven curricula infusing elements of engineering into every grade.
The course goes beyond helping the undergrads become better teachers, says instructor Margaret Hart, the Whiting School Center for Educational Outreach's middle school program manager.
"Learning how to teach incorporates many different skills," she says. "One of the most useful is the skill of communicating ideas to people who do not have the same background knowledge. Scientists and engineers need this skill."
The Johns Hopkins students often get more than they bargained for. "What's more thrilling than helping with science is connecting on a personal level," Yang says. "I've been exposed to a broader social dynamic in Baltimore. It's opened me to the Baltimore community as a whole."