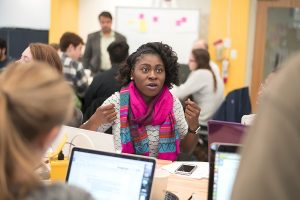 Students, researchers, and health professionals gathered on the Homewood campus in April for a weekend-long Emergency Zika Challenge to find innovative ways to prevent the spread of the disease through protection from mosquito bites. Modeled after an exercise to prevent the spread of the Ebola virus by developing a protective suit for health care workers, the Zika Design Challenge was sponsored by Jhpiego, a global health nonprofit and university affiliate, and the Johns Hopkins Center for Bioengineering Innovation and Design.
1947
The year the Zika virus was first identified in Uganda in rhesus monkeys.
4 million
Estimated number of people who will be infected with Zika by year's end according
to the World Health Organization, which declared the virus a global health emergency in February.
47
Number of countries and territories reporting active Zika virus transmission as of May, with the majority of cases in Central and South America.
60
Number of participants who gathered at Johns Hopkins—from as far away as Brazil—to brainstorm about disease prevention strategies.
5
Number of winning ideas. These included mapping a city to detect Zika mosquito hot spots, fashion accessories infused with a long-acting mosquito repellent, and a
special soap to keep mosquitoes away.