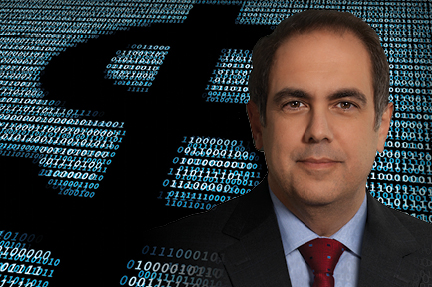 Many students choose a major because the subject comes easily to them. Not Chris Perretta '79—he chose electrical engineering at the Whiting School expressly because it was a challenge. "It was always hard for me," he remembers. "I got the sense that if it's hard, it must be worth doing."
Tackling new challenges has been one of his guiding missions ever since. In April, Perretta took on his latest one: He was named chief information and operations officer for Mitsubishi UFJ Financial Group Americas Holdings Corp. and its U.S. banking subsidiary, MUFG Bank. MUFG is one of the world's leading financial institutions, and its New York-based MUFG Americas Holdings reports assets of roughly $116.2 billion.
Perretta slowly waded into information technology after wrapping up his undergraduate years at Johns Hopkins. After a stint in General Electric's Edison Engineering Development Program, a master's degree program in electrical engineering at Syracuse University, and a joint health science and technology PhD program at Harvard University, he went to work in IT for Arthur Anderson (now Accenture) without much previous experience.
"Hopkins equipped me to understand the importance of systemic thinking, to be able to look at very complex systems and understand how they interoperate and affect each other," he says.
Since then, Perretta has worked in chief information officer or chief operations officer positions for General Electric Retail Financial Services, General Electric Capital, General Electric Commercial Finance, and most recently, State Street Corporation.
Information technology is a perfect fit for the banking industry because today's money is virtual, he says.
MUFG's retail arm provides Perretta with the new challenge of creating synergy between its two business units. "I've always been drawn to things that aren't easy," he says. "I'm ready to take on something new."