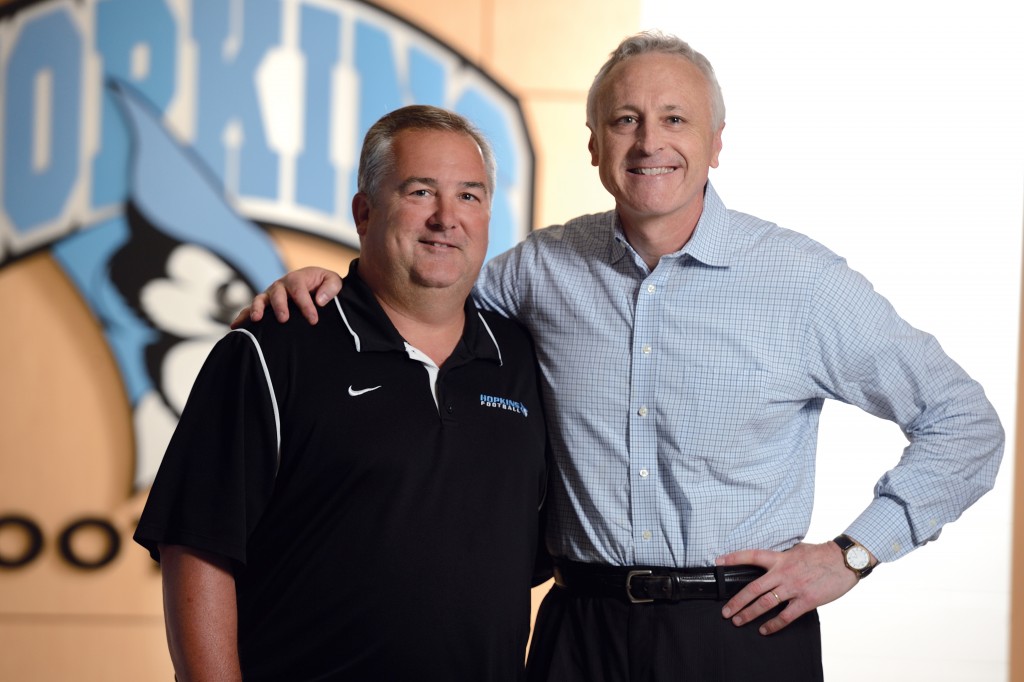 William J. "Bill" Stromberg '82—arguably the best football player in Johns Hopkins University's history—has been tapped to quarterback one of Baltimore's largest employers. He took over as president and CEO of T. Rowe Price on Jan. 1.
Stromberg had served as head of global equity at the money management firm since 2006. He succeeds James A.C. Kennedy, who announced his retirement last spring. Stromberg and Kennedy worked closely together— in much the same way that he, as a wide receiver, and JHU head football coach Jim Margraff '82 (A&S) as quarterback, became the greatest passing combination in Blue Jay football history when they were students.
In interviews, Stromberg has outlined a "stay-the-course" strategy for T. Rowe Price, a global investment firm with nearly $725 billion in assets under management. "We have a very strong company and don't need a lot of new direction," Stromberg says, but adds that the company will continue to diversify its global business.
At Johns Hopkins, Stromberg serves on the board of trustees and the Whiting School of Engineering Advisory Board, and has been a founding member and two-term president of the Blue Jays Unlimited Board of Advisors. After earning his BA at Johns Hopkins in mathematical sciences, he went on to earn an MBA from the Tuck School of Business at Dartmouth College in 1987.
At the Ralph S. O'Connor Recreation Center, Stromberg is best remembered for time on the football and baseball fields. He was the first, and remains the only, Johns Hopkins football player inducted into the College Football Hall of Fame, and his chemistry with Margraff is legendary. The men remain close personal friends. Both are members of the Johns Hopkins University Athletic Hall of Fame.
On the baseball diamond, Stromberg helped guide the Blue Jays to a pair of conference titles. In September 2014, a record crowd attended the dedication of JHU's Babb Field at Stromberg Stadium to honor longtime baseball coach Bob Babb and the field's leading donor, Stromberg.
"As great an athlete as Bill was, he's an even better person," says Margraff. "He stands for everything that is Hopkins, and T. Rowe Price is in good hands."