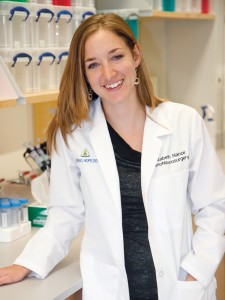 ELIZABETH NANCE, PHD '12, jokes that she made Forbes magazine's 30 under 30 list—which recognizes outstanding young professionals—by the skin of her teeth. "I just squeezed in," laughs the North Carolina native, who turned 30 in early February.
In her postdoc fellowship at the School of Medicine, Nance worked on promising new treatments for brain cancer and other cranial diseases. She has developed nanoparticle technology that can pass through the difficult-to-cross blood-brain barrier and penetrate further into diseased brains, which most medicines cannot do. The nanoparticles can provide physicians and researchers with access to regions of the brain not previously reachable, and help them observe how cells are spaced within the brain and how drug therapies can work in the brain.
Nance is conducting nanoparticle testing in animals but aims to transfer the method to humans—even newborns—over the next five to 10 years. She hopes testing can shed light on treating such diseases as autism, ALS, traumatic brain injury, and stroke.
"These things are so small, they have unique properties to get through the damaged barrier," she says. "My particle platform was examining the disease itself and determining what would impact a particular outcome, such as reducing the size of a brain tumor. In most cases, you are trying to cure a patient or minimize suffering or reduce the side effects to improve a patient's quality of life."
A seasoned educator who volunteers at the Children's Science Center in Herndon, Virginia, Nance hopes the Forbes honor will inspire other students to dream big.
Peter Li, MS '13, also made Forbes' 30 Under 30 list. Read our story about him in the Winter 2015 issue of Johns Hopkins Engineering magazine.