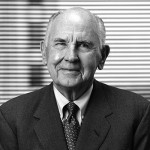 A. James Clark, chairman and CEO of Clark Enterprises, an international engineering and construction firm, as well as a Johns Hopkins University and School of Medicine trustee emeritus and a longtime supporter of the Whiting School, died on March 20.
"Mr. Clark was a visionary whose impact on engineering education and practice has shaped our school, the university, and the world at large," says Ed Schlesinger, WSE's Benjamin T. Rome Dean.
Through Clark's support, Clark Hall, home to the Department of Biomedical Engineering, opened in 2001. "The students and faculty working in Clark Hall demonstrate Mr. Clark's belief in the critical role engineers play in solving important societal problems," says Schlesinger.
In 2008, Clark endowed the Whiting School's deanship in honor of his mentor and colleague, Benjamin T. Rome '25. "Bearing this title is a tremendous honor," says Schlesinger. "I remain grateful for the faith that Mr. Clark placed in our school, in our future, and for the legacy he has left to us."