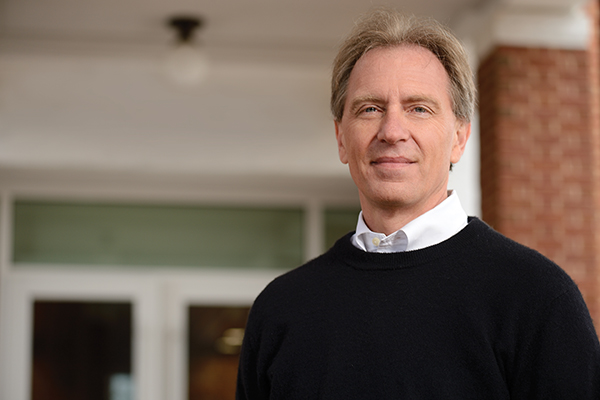 Greg Hager, professor and past chair of the Department of Computer Science, has been named the Whiting School's inaugural Mandell Bellmore Professor. The endowed professorship was created by John Malone, PhD '69, and is named in honor of Malone's thesis advisor in the Department of Operations Research.
Hager is a leader in the development of algorithms for real-time computer vision and their uses for robotics, human-computer interaction, and medicine. As director of the Whiting School's Computational Interaction and Robotics Lab, he has developed methods to analyze videos of the hand movements of surgeons-in-training. The goal of this work: to aid doctors and surgeons in improving their skills in the operating room. Hager is also co-founder of Clear Guide Medical, a startup that developed a groundbreaking platform that enables doctors and technicians to perform more accurate ultrasound-guided procedures.
Under Hager's five-year tenure as chair of Computer Science, the department grew in reputation and size, with the undergraduate program more than doubling, PhD students increasing by more than 50 percent, and 10 tenure-track faculty members added.
Engineering alumnus and cable TV pioneer Malone has long believed in the promise of improving health care through a systems approach that integrates medical advances with engineering technologies. The Mandell Bellmore Endowed Professorship is part of a new commitment Malone has made to provide endowed professorships to faculty members who are improving health care using a systems-based approach.
Says Ed Schlesinger, the Whiting School's Benjamin T. Rome Dean: "John's support of our faculty will enable Johns Hopkins to create new partnerships and technologies that accelerate discovery at the intersection of medicine and engineering. I cannot imagine a more fitting recipient for this honor than Greg Hager."