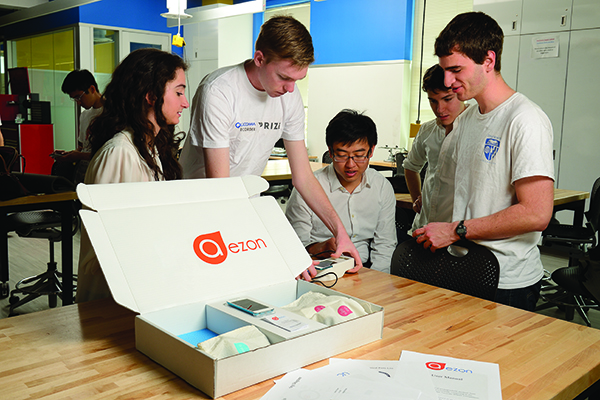 The time for clever Star Trek allusions was long past as a team of Johns Hopkins undergraduates, aiming to build a hand-held, lifesaving diagnostic "tricorder," scrambled throughout the early spring to manufacture and mass-produce the real McCoy.
At stake for Aezon Health, the youngest—and only undergraduate—team among the 10 global finalists for the Qualcomm Tricorder XPRIZE: a $10 million windfall and a defining role in the dawning era of DIY medical care.
Opposing the 19-member Johns Hopkins team (composed of students from the schools of Engineering and Arts and Sciences) were squadrons of far-more-experienced biomedical professionals from universities, institutions, and corporations in Canada, India, Slovenia, Northern Ireland, England, the U.S., and Taiwan.
At press time, the XPRIZE deadlines were looming and inflexible. Each team had to submit one complete working system before May 1, and 30 additional copies five weeks later.
But the basic challenge had not changed since the competition began in 2012: to design, assemble, and package a hand-held, Web-enabled, user-friendly, wet and dry medical laboratory that accurately can diagnose 15 unrelated ailments (ranging from sleep apnea to middle-ear infection to tuberculosis)—or assure the user that he or she has no sickness at all.
"Right now, pieces of it work," team leader Tatiana Rypinski '15 said in early March. "But we are constantly testing and trying to refine the system. What's working pretty well is our diagnostic algorithm, which is based on the information that the user inputs about his or her health."
According to the competition's official rules, the winning device will be the one that achieves "the highest diagnostic score regarding a set of 15 distinct diseases in a group of 15 to 30 people in three days," without any input from a health care worker or facility.
Look for an update on how the Johns Hopkins team fares in its pursuit of the XPrize in the Winter 2015 issue of JHU Engineering.