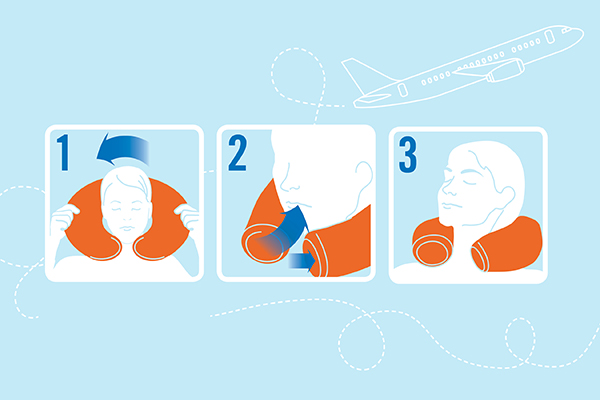 When she was a senior, Melanie Shimano, MS '15, worked as a teaching assistant for an oral presentation class at the Whiting School. One of the assignments she gave students was to develop a hypothetical, two-minute "elevator pitch" that they'd give the CEO of a company where they hoped to intern.
In the summer of 2014, Shimano got a surprise chance to live this assignment in real life. She was flying back to Johns Hopkins to begin her first year as a master's student at the Whiting School when she found herself seated next to Johns Hopkins President Ronald J. Daniels.
Thinking quickly, she launched into her two-minute pitch about a new product that she and two classmates had designed and hoped to eventually produce commercially.
The product—a travel pillow with built-in air purifier—was the result of a yearlong product and process designing course that Shimano, along with classmates Jeron Chen '15 and Jason Hu '15, took together their senior year. The trio spent one semester designing the product and the second semester building a prototype. Combining their strengths, the students designed and built a hollow, U-shaped travel pillow equipped with an ultraviolet light inside that sterilizes air drawn in through one fan, blowing the clean air toward the traveler's face with another.
When Shimano shared details about their invention with her airplane seat partner, she remembers, the excitement was contagious. President Daniels agreed to help the student team find mentors and investors to usher this product into the marketplace. Thus far, the team has set a provisional patent and is working on improving their travel air purifier with parts that they 3-D printed in the Whiting School's Advanced Manufacturing Lab. Winners of the Johns Hopkins University Business Plan Competition in the General Business Plan category, they also recently joined FastForward, a program of Johns Hopkins Technology Ventures that provides education, mentorship, and affordable workspace to young entrepreneurs.
"These hypothetical scenarios really do happen," Shimano says of her airplane speech, "so it's good to be prepared."