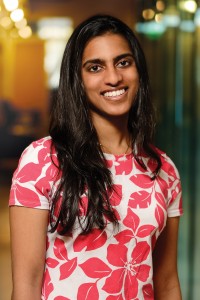 Sandya Subramanian '15, who developed a tool to help doctors pinpoint the region of the brain responsible for seizures in people with epilepsy, has won a scholarship from the Winston Churchill Foundation of the United States for graduate study at England's University of Cambridge.
The Churchill Scholarship is awarded annually to at least 14 students who have demonstrated a capacity to contribute to the advancement of knowledge in the sciences, engineering, or mathematics by completing original, creative work at an advanced level. Subramanian is thefifth Johns Hopkins winner in the past four years.
Subramanian, who is majoring in Biomedical Engineering and Applied Mathematics and Statistics, hopes to become a computational neuroscience researcher, devising tools to help clinicians treating the brain. For three years, she has worked in the lab of Sridevi Sarma, an assistant professor in the Department of Biomedical Engineering and researcher in the Institute for Computational Medicine. There, she developed the tool to improve epilepsy treatment.
"Of all the undergraduate students I have supervised in research, Sandya is by far the most precocious, talented, hardworking, and diligent student—and this is significant given the talented student pool [of the university's biomedical engineering students]," says Sarma. "There is no doubt in my mind that Sandya has a remarkable ability to be innovative and conduct original research that will have a high impact on the field of neuroscience, computational medicine, and patients suffering from epilepsy."
At Cambridge, Subramanian plans to continue exploring the brain through new research projects in the Department of Clinical Neurosciences. "It will be a first step for me as an independent researcher," she says. "This is an amazing opportunity that so few people get."