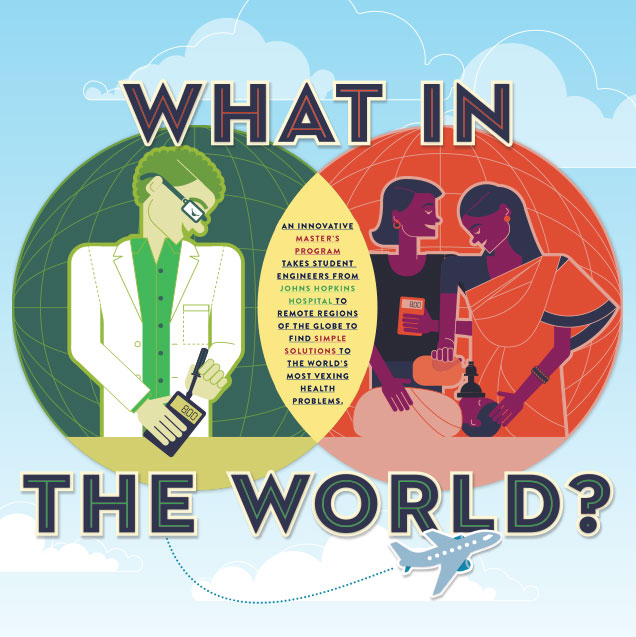 An innovative master's program takes student engineers from Johns Hopkins Hospital to remote regions of the globe to find simple solutions to the world's most vexing health problems.
How long would it take you to reach quality health care?
On the Homewood campus, you are a 10-minute car ride from Johns Hopkins Hospital, one of the best medical facilities in the world, equipped with state-of-the-art technology. Yet, as they have done for four years, Johns Hopkins biomedical engineering master's students enrolled in the yearlong David E. Swirnow Master's Program in Bioengineering Innovation and Design last summer left this medical technology epicenter to travel to the far corners of the globe to walk in the shoes of those who face a much more difficult path to quality treatment.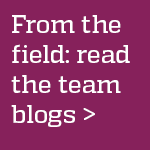 Every year, students in the Center for Bioengineering Innovation and Design (CBID) program are charged with designing medical devices to solve clinical problems in both Johns Hopkins Hospital and some of the world's lowest resource areas. In order to do this effectively, they must understand the environs, resources, and needs of some of the world's most deprived people.
"In rural Nepal, women in labor often have to deal with long treks to reach accessible roads, bumpy car rides in shared taxis, and the threat of landslides," writes Allie Sibole, who had a similar journey herself outside Pokhara, Nepal's second largest city. "There had been so much rain … much of the path was submerged. We waded through ankle-deep water and then climbed a hill to finally reach the health post." Experiences like these have become the hallmark of the program, which has attracted attention from academics, activists, and corporate philanthropists for its innovative approach to training the next generation of global medical problem solvers. Working in teams—and supported by organizations such as USAID, the Johns Hopkins–affiliated Jhpiego, Laerdal Global Health, Medtronic, Boston Scientific, and nonprofits such as the GE and Gates foundations—students spend two months in clinical rotations at Johns Hopkins Hospital before packing suitcases for monthlong trips to Europe, Southeast Asia, and sub-Saharan Africa.
When they return, they spend the remainder of their MSE year working with Johns Hopkins science and clinical faculty, plus a network of external mentors, to design and develop viable products for U.S. and global markets. To date, 79 students have graduated from the MSE program; 20 students are enrolled this year. The students have worked on 32 novel designs, with 18 aimed at the U.S. market and 14 developed for low-resource settings. This year, students are working on eight projects. In all, they have filed 66 invention disclosures with the Johns Hopkins Office of Technology Transfer, and their projects are at varying stages of development.
Last summer, CBID Director Youseph Yazdi traveled with students to several locations in India, including a village on a mangrove island in the Sunderbans region—complete with crocodiles and an occasional Bengal tiger. In addition to making clinical observations, a team was testing Hemoglobe, a potentially lifesaving mobile device to screen for anemia, which was developed at CBID.
"Even in that remote village, the poverty wasn't material or spiritual. It was a poverty
of information about health and proper care," says Yazdi, an electrical engineer with an MBA, who left Johnson & Johnson in 2009 to head the CBID program.
"That results in people wasting time and money on useless or even harmful treatment. That is unacceptable when an ocean of information is as near as the mobile device in your pocket. We aim to expose students to this reality, then give them the resources and mentorship to create real solutions."
Know your User: CBID students share their lessons from the field
Recognize the workload of health care workers "Surgeons are forced to be as time-efficient as possible in order to accommodate the volume of patients who arrive to seek care. We learned from several Ob/Gyn physicians that 60 percent of the surgeries in Ob/Gyn are emergency cases; rarely do patients arrive with a scheduled appointment. An GYNAE OT may have to handle 10 to 13 C-sections a day, in addition to other gynecological operations."  –Nichaluk Leartprapun, India
You can't design around electricity "One thing you notice in Nepal is the intermittent power cuts throughout the day, which can range from 18 to 22 hours at a time. Even though the hospital has backup generators that power the hospital through these daily cuts, the current infrastructure reality dictates that devices must be innovative energy sippers." –Aaron Chang, Nepal
You can't call 911, either "Women in labor may have to travel many hours over dangerous roads to reach quality care. Ambulances are rare … Nepal's rate of home births is still shockingly high at 64 percent. The government has an incentive program to cover the cost of delivery and transportation … It's not merely an issue of mothers being unable to afford care. There are huge issues—from the transportation infrastructure to uncontrollable factors like the weather." — Allie Sibole, Nepal
You aren't designing fancy technology; you are innovating "It's easy to start designing and get caught up in the technology, fall in love with the design, and stay blind to the real-world implications of our projects. Professor Yazdi told us there are two failure modes. One is working on the right problem but not achieving a solution. The other is developing a really cool technology. But then everyone asks: 'So what?'" –Melody Tan, Indonesia
Your devices need to be easy to fix "We spoke to two out of the three biomedical technicians in charge of repairing all broken equipment. They mentioned that machines with complicated instructions (sometimes in foreign languages!) and lots of moving parts often remained broken once they failed. Listening to their challenges reinforced the idea that devices must be serviceable for the long term.'' –Allie Sibole, Nepal
Game Changers
Some promising global health projects at various stages of development:
Cryopop:
A low-cost cryotherapy device that uses dry ice to treat cervical precancerous lesions, Cryopop relies on carbon dioxide, a gas available in low-resource settings. The device earned first prize in the 2012 National Collegiate Inventors and Innovators Alliance BMEidea Competition and is currently being developed by CBID and Jhpiego, a Johns Hopkins global health affiliate, with funding through the GE Foundation and National Institutes of Health.
ePartogram:
Affordable and easy to use, the ePartogram harnesses algorithms to help health care providers respond more rapidly to complications during labor and delivery. It was selected from more than 600 projects as one of 19 innovations to be funded through Saving Lives at Birth: A Grand Challenge for Development competition sponsored by USAID, the Bill & Melinda Gates Foundation, and others. Jhpiego and CBID are refining the design and beginning pilot implementation, with support from the GE Foundation.
Hemoglobe:
Initially developed as an undergraduate CBID Design Team project, this low-cost tool transforms a cellphone into a hemoglobin screening device that avoids a painful finger stick, and logs data for authorities managing anemia treatment programs. Anemia in pregnant women puts both mother and child at risk—but is easy to treat if detected early. Hemoglobe has been awarded a $250,000 grant from Saving Lives at Birth: A Grand Challenge for Development.