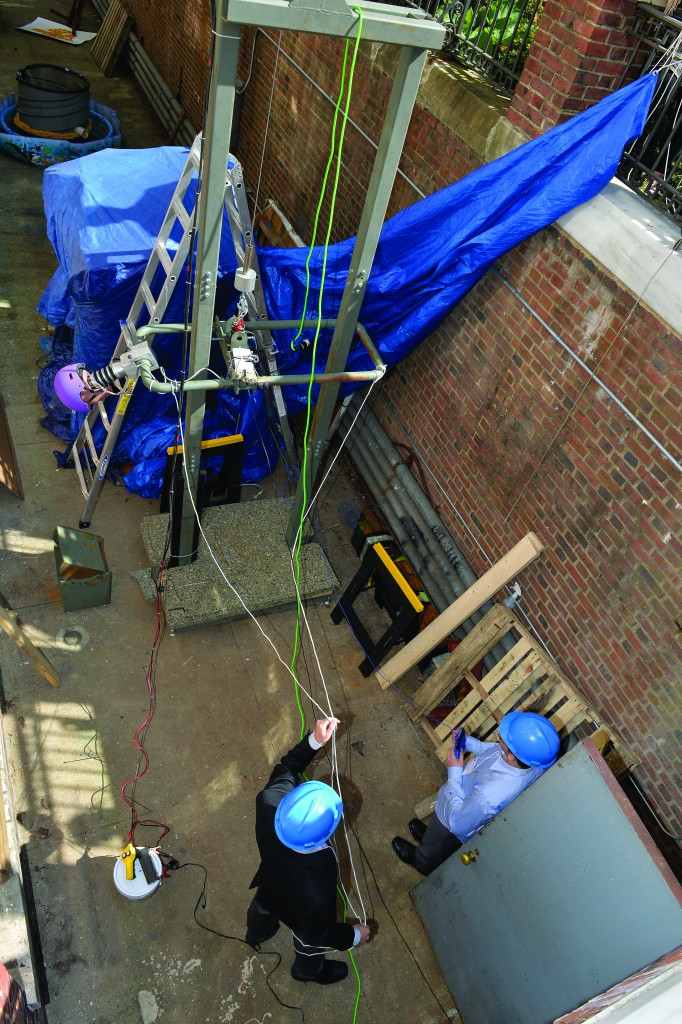 "Better our head than yours" is the motto of an innovative testing apparatus for sports helmets—nicknamed "the guillotine"—that has been constructed by a team of mechanical engineering students at the Whiting School. The project was sponsored by HIP-TEC of Truckee, California, which designs and manufactures interior cushioning for protective headgear.
"A lot of the current drop-test towers just drop the head linearly," notes James Teasley '14, now a graduate student who worked on the project along with classmates Ryan Downing '14, graduate student Michael Lysak, and Jonathan Wang '14. "You raise a weighted head to a certain distance and drop it and you measure the linear impact.
But current research is showing that angular accelerations due to impact—even at low
speeds—are possibly more dangerous than linear acceleration.
"Our design set out to provide a way to measure these twisting impacts. We designed a neck joint that allowed rotation of the head and nodding of the head." Moreover, he says, "the addition of a body mass to these tests provided a significantly different and more realistic measurement."
"It has been sort of like the Wild West in helmet design, where people don't really know what rotations and what impacts at what speeds are really detrimental," says Nick Turner of HIP-TEC, whose brother was killed in a whitewater kayaking accident a decade ago, inspiring the company's mission.
"The international standard has always been based on a single linear death blow. The Hopkins machine is really the first of its kind in the world that can simulate a rotational impact and measure what happens when a body is falling and twisting at the same time, which is what usually happens in the real world, even if it's just a child falling off a 10-inch bike."