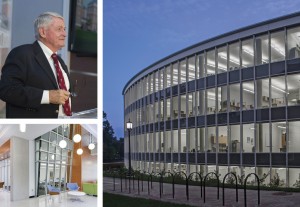 On October 16, more than 300 alumni, friends, university leadership, faculty, staff, and students gathered in a tent on the Decker Quadrangle for the dedication of Malone Hall, the Whiting School of Engineering's stately new 69,000-square-foot, red-brick-and marble edifice with a sleek, modern interior.
The building, designed to advance cutting-edge collaborative and translational research, has set a new standard for academic and research facilities at Johns Hopkins.
The dedication ceremony included a welcome from Johns Hopkins University President Ronald J. Daniels, as well as remarks by Ed Schlesinger, Benjamin T. Rome Dean of the Whiting School; Paul B. Rothman, CEO of Johns Hopkins Medicine; Russell H. Taylor '70, the John C. Malone Professor; Jeffrey H. Aronson '80, chair of the Johns Hopkins University Board of Trustees; and John C. Malone, PhD '69, the alumnus whose $30 million gift made the new structure possible.
Michael R. Bloomberg '64 also was on hand for the dedication. "Malone Hall will surely be the home of innovations that will revolutionize the fields of medicine and engineering," he said.
Housed in the facility are many of the engineers and researchers from the Department of Computer Science, as well as a number of research institutes, including the Hopkins Extreme Materials Institute and the Johns Hopkins University Information Security Institute. The new building will also serve as the Homewood campus's hub for the university's individualized health initiative.
Added Malone, chair of Liberty Media Corp. and Liberty Global Inc.: "It's a wonderful privilege to be able to give back to the institutions that gave you your start."