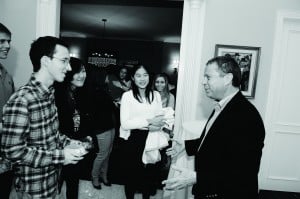 Dear Whiting School Community,
My approaching one-year anniversary as Benjamin T. Rome Dean seems a natural time to share some thoughts on a top priority: ensuring that our students have an outstanding undergraduate experience. From before our students first set foot on campus until they cross the stage at Commencement and beyond, I am committed to providing them with experiences that exemplify JHU's focus on innovation, creativity, and discovery.
One example of such an experience is HEART: Hopkins Engineering Applications & Research Tutorials. Begun this fall, HEART introduced more than 120 under- graduates to some of the most exciting research taking place at the Whiting School. Taught by graduate students and postdoctoral fellows, these no-prerequisite initiatives gave students an up-close look at how our researchers are tackling some of the world's most pressing problems.
Another new initiative, SPUR, the Summer Program in Undergraduate Research, pairs highly talented WSE undergraduates with mentors at JHU's Applied Physics Laboratory for unique, paid summer internships. Through SPUR, students have worked on projects ranging from prosthetic interfaces to computer vision and more, affording them unprecedented access to experts at one of the world's premier engineering institutions.
Beyond programs and internships, the best way I know to ensure that our undergraduates are having a rich educational, cultural, and social experience is by getting to know them. To this end, I taught an undergraduate course in Electrical and Computer Engineering this fall, and throughout the year my wife and I are hosting informal dinners for all first-year students, along with faculty and administrators, at our home.
As our alumni know, being part of the Johns Hopkins community goes well beyond the years spent on campus. It's about a lifetime of experiences and connections. One of my goals is to help our students understand the value and possibilities that Hopkins provides them—as students at Homewood and later as alumni of this great institution.
Sincerely,
Ed Schlesinger
Benjamin T. Rome, Dean