Dear Whiting School Community,
As you may already have heard, earlier this spring I announced my decision to step down as the Benjamin T. Rome Dean of the Whiting School of Engineering in order to take on new opportunities and challenges as the executive vice president and provost of Penn State University. Needless to say, after 25 years at Johns Hopkins, including nine years as dean, this was not an easy decision.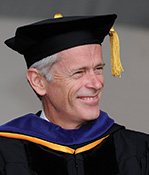 Though I know I will miss Johns Hopkins, I am confident that the school is in the hands of a strong and supportive community, including Vice Dean for Faculty Andrew Douglas, who will serve as the school's interim dean until my replacement is named. Together I know that all of you will provide the guidance and passion necessary to see that our trajectory of excellence continues.
Working collaboratively with faculty, staff, alumni, and friends, we have composed a strategic plan focusing on four priorities: Educating for Leadership, Leveraging Data to Knowledge, Engineering Human Health, and Improving Global Well-Being and Security. With this blueprint, embraced by the Johns Hopkins Engineering community, I know the school is well-positioned to make a significant impact in these areas.
I invite you to learn more about the school's priorities for the coming years in this issue of the magazine (see page 18). I believe that if you do, you will share my enthusiasm for the Whiting School's future.
Johns Hopkins Engineering has never rested in the hands of any one individual. Instead, our strength depends on, and rests on, our tremendous alumni, friends, supporters, faculty, and school and university leaders. Over the past century, it has been the collective achievements, guidance, and loyalty of this community that have enabled the school to thrive.
Thank you for making my years of service to the Whiting School so exciting and rewarding.
Best,
Nicholas P. Jones
Benjamin T. Rome Dean, G. W. C. Whiting School of Engineering