Dear Whiting School Community,
Welcome to the centennial celebration of Johns Hopkins Engineering.
In early 1912, state and university leaders agreed upon the need for an engineering program at Johns Hopkins University to focus on educating students in applied science and advancing technology. The ensuing century ushered in scientific breakthroughs of unimaginable proportions, many of which occurred here at Johns Hopkins.
In fact, it was in the 1930s that Johns Hopkins electrical engineer William B. Kouwenhoven traveled frequently between the Homewood and medical campuses in his dogged pursuit to understand the effect of electrical currents on living tissue. It was his persistence that pushed forward the understanding of the human heart's electrophysiology that led to the development of the cardiac defibrillator. As we know, this invention has since saved millions of lives.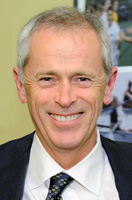 As I reflect on our successes over the last century, it strikes me that what sets the Whiting School apart is our tenacity and willingness to collaborate outside of traditional boundaries. Throughout our history, I can point to many examples of cross-disciplinary collaboration-and nowhere is this better seen than in our continued and expanding partnership with Johns Hopkins Medicine.
It is hard for me to imagine a better partner for these endeavors than the retiring dean of Medicine, Ed Miller. He instinctively "gets" the connection between engineering and medicine. He has embraced our long-standing success in biomedical engineering and has supported some of our most successful ventures, including the Engineering Research Center for Computer-Integrated Surgery and Technology, the Institute for Computational Medicine, and the Institute for NanoBioTechnology.
Early in my tenure, Ed sent me an article about a research partnership at another institution. We agreed that Johns Hopkins was, in fact, better positioned to advance science through cross-disciplinary collaboration, and we got to work. That exchange led to a fruitful partnership, fueled by many early-morning meetings at the Starbucks on Charles Street. Over coffee, we traded notes about challenges and opportunities. But mostly, we brainstormed about how we could collaborate and function most effectively as a team. We will miss Ed as he retires, but we look forward to continuing this legacy with his successor, Paul B. Rothman, who joined Johns Hopkins on July 1.
I invite you to join us in coming months to celebrate the exciting milestones of our past. But I also ask you to direct your thoughts to our future, and share with us your ideas for positive and promising partnerships.
Best wishes,
Nicholas P. Jones
Benjamin T. Rome Dean, G. W. C. Whiting School of Engineering