While the drive and commitment that Hopkins Engineering students have for their academic and research pursuits are nothing short of remarkable, many engineering undergrads exhibit the same level of passion when they take to Homewood's athletic fields and art studios, when they explore Maryland's wilderness and Baltimore's urban neighborhoods. They learn, serve, lead, and create. In doing so, they have found unique ways to achieve balance in their lives. A sampling of these exceptional students…
Photography by Will Kirk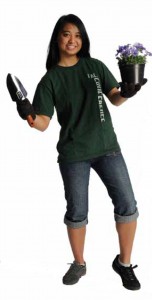 Community Organizer
Arianne Sevilla '12
Hometown: West Hills, CA
Major: Chemical and Biomolecular Engineering
Extracurriculars:
Remington Outreach, co-founder and co-president
President's Day of Service, 2010 logistics coordinator
Hopkins Christian Fellowship
Johns Hopkins Tutorial Project: organizer, trains and
evaluates tutors (Fall '10 received award for highest
percentage of students who met their goals)
When Arianne Sevilla '12 arrived at Johns Hopkins, she was eager to feel connected to her new city. In high school, she'd been involved with community service and figured that would be a good way to get acquainted with Baltimore. So she jumped right in.
During freshman orientation, she volunteered to pick up trash in nearby Remington, as part of the university's Get Involved Day. Inspired by the neighborhood residents and other local volunteers she met, and with some help from the Center for Social Concern, she and her roommate soon launched a new club: Remington Outreach.
For more than two years, Sevilla and up to 20 other Hopkins volunteers have returned to Remington every other weekend to plant trees, build flowerbeds, and respond to needs identified by the community. One recent success: Last fall, she helped acquire the rights to two vacant lots and is turning them into a community garden
Because of their experience as community organizers, she and her roommate were asked to be team leaders the next year for the President's Day of Service (the new moniker for Get Involved Day), and last summer, she worked for the Center for Social Concern, again, coordinating projects for the 1,000 student, faculty, and staff volunteers she placed at 45 sites across the city.
Says Sevilla, "I'm not one of those engineers who can sit in my room and do differential equations all day-I need to get out and do stuff. I love waking up Saturday morning and going out to plant a tree!"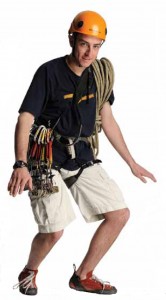 Outdoor Adventurer
Adam Gross '13
Hometown: Ocean, NJ
Major: Computer Engineering
Extracurriculars:
Johns Hopkins Outdoors Club, publicity manager and webmaster
Outdoor Pursuits, director of IT & Special Projects
Boot Up Baltimore, systems administrator
IEEE, systems administrator
Relay for Life, logistics co-chair Barnstormers, stage crew
JHU Amateur Radio Club, vice president
Pep Band
Over the fall semester, between classes, labs, homework, set building, teaching computer skills to Baltimore City elementary students, and numerous other activities, Adam Gross '13 squeezed in six weekends in the Maryland wilderness. He went climbing in western Maryland, orienteering in Patapsco State Park, and canoeing near Washington, DC, and spent two weekends rappelling in Silver Spring.
"Achieving balance is all about time management-keeping my academics on par with my extracurricular activities," says Gross. "I take all of my commitments seriously."
In the outdoors arena alone, in addition to overseeing administrative issues for the Rec Center's Outdoor Pursuits and leading trips for the Johns Hopkins Outdoors Club (JHOC), Gross markets the group's activities to the more than 300 Johns Hopkins students who, each year, sign up with JHOC to go caving, hiking, canoeing, rappelling, and more. (His specialty is rock climbing.)
Gross admits that it can be tough to be away from campus so much, but he also feels it's necessary. "Though I try to save weekends for my homework, getting off campus is relaxing. It's important to me. I like jumping off a bridge every once in a while, and I really like that as a leader, I get to share these activities with others."
Gross believes his outdoor adventures serve another purpose as well. "Academics provide me with the knowledge I'll need for a specific job," he says, "but these other activities improve my leadership, interpersonal, and time management skills-which are skills I'll need for life."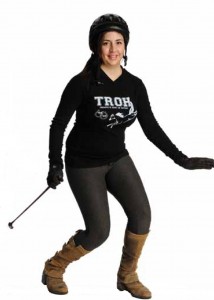 Idealistic Equestrian
Maya Jabbour '13
Hometown: Los Altos, CA
Major: Triple major in Applied Mathematics and Statistics, Economics, and Romance Languages and Literatures
Extracurriculars:
Equestrian Club, co-founder and president
French Club, president
Italian Club, vice president
During her freshman year, Maya Jabbour '13, while triple majoring in applied mathematics and statistics, Romance languages, and economics, decided she wanted to share her passion for horseback riding with other Hopkins students. And the fact that she lived in student housing and didn't have a car-or a horse for that matter-didn't deter her.
After a few false starts (JHU's Office of Risk Management said no to the purchase of five priced-to-sell, off-track racehorses), Jabbour hit her stride. With a friend, she launched the Johns Hopkins Equestrian Club. And with official sanction from the Office of Student Activities, she worked out the details involved with providing 22 club members with biweekly horseback riding lessons with a professional trainer.
After finding a farm in Baltimore County where the club could lease horses from boarders and employ a part-time trainer, there was still a lot of paperwork. "In order to make this official, I had to create all of the documents that spell out our policies," Jabbour explains. She had to address liability issues, create rules and lesson schedules, and develop a budget that took into account everything from horse leasing and farrier services (for equine hoof care) to Zipcar fees.
While this took up much of Jabbour's free time, she's now planning to ride more. "What I like about riding is that it gets me off campus, and I bond with other students and with the horses," she says. "It's great to be in a green, peaceful environment-and to be able to provide this opportunity to other students."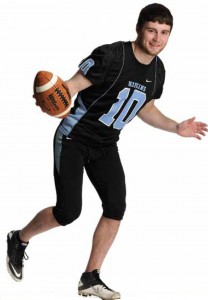 On His Game
Daniel Wodicka '14
Hometown: West Lafayette, IN
Major: Biomedical Engineering
Extracurriculars:
Varsity Football
JHU Biomedical Engineering Society
Daniel Wodicka '14, a starting wide receiver for the Blue Jays football team, played in every game last season and estimates that during the fall semester, he spent 20 hours each week on football and 25 hours tackling homework.
Biomedical engineering (BME) at Johns Hopkins is reputed to be one of the most selective undergraduate programs in the country, and Wodicka is one of only two BME majors on the football team. "I chose Hopkins because I wanted a great engineering program and the chance to play football, " he says. "At Hopkins it's understood that you can do both."
Last October, Wodicka was selected as one of five winners of the National Football Foundation High School Scholar-Athlete Awards. And while the awards reception at New York's Waldorf Astoria was certainly a fall highlight, he says his favorite autumn moment was catching an 80-yard touchdown pass in the Blue Jays' win over Dickinson College.
While football allows Wodicka to "blow off steam" from his academic pursuits, he also finds that the skills he's learned on the field can be applied to the lab. "There are times when I've been working in the BME lab and I feel like we're down by 21 points. Something breaks, something just isn't working right, and we have to rally. Everyone is working toward the same goal, and communication is so important."
This summer, Wodicka will conduct research at Purdue, studying functional magnetic resonance imaging. "We're doing concussion testing related to football helmets-trying to understand what causes concussions and looking for new materials for helmets that could lessen their severity."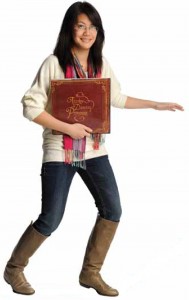 Hands-On Artistry
Siqi Ngan '12
Hometown: Hong Kong
Major: Chemical and Biomolecular Engineering
Extracurriculars:
Engineering World Health
Woman's Pre-Health Leadership Society
In early March, Siqi Ngan '12 returned from a week of climbing mountains in Switzerland to get great news: She is the recipient of a grant that will enable her to spend one month in Costa Rica and a month in another yet-to-be-determined developing nation, where she'll be repairing medical equipment with Engineering World Health. "In my classes, I learn so much that's theoretical," says Ngan. "I like to be able to use my hands to do more practical stuff, too."
Using her hands-and the other side of her brain-is very important to Ngan's sense of balance as a Hopkins student. "I'm a ChemBE major and I'm likely pre-med," Ngan explains. "That means I have a lot of requirements to fulfill. I have maybe one or two electives I can take each semester."
Ngan, who has always enjoyed making art, has taken three studio classes since her sophomore year. This fall, she enrolled in the class Artist in the Museum: Making Books. Her book, The Twelve Dancing Princesses, a fairy tale she created as her final project, was exhibited at JHU's Evergreen Museum and wowed Craig Hankin who oversees Homewood's academic fine arts programs. "She's an extraordinary artist, perceptive and thoughtful," says Hankin.
The book has lavishly illustrated and calligraphed, hand-cut pages that, when layered upon each other, create an exquisite complexity of depth and pattern. "One of the great things about taking a class like this is that I have total creative freedom," says Ngan.