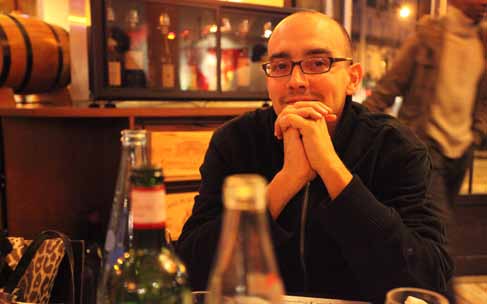 Software developer. Startup advisor. Blogger. Angel investor. Internet marketing guru. Since graduating from the Whiting School in 1988 with a BS in mathematical sciences, Dave McClure has filled each of these roles—sometimes simultaneously—in Silicon Valley. Ask him to pinpoint a common thread that runs through his lengthy career in the high-tech mecca's ever-evolving information technology industry, and McClure responds matter-of-factly: change.
A self-described "master of 500 hats" (also the name of his blog), McClure has never been satisfied with the status quo. When he entered Hopkins as a freshman, he was just 16 years old. "I was bored in high school," McClure says, but he is quick to add that when he reached college he had a lot more to learn than he realized.
Shortly after graduation McClure headed west, where he's been pursuing his entrepreneurial dreams ever since. He cut his teeth as a consultant with Microsoft, where he helped develop a production system used by Intel's manufacturing facilities worldwide. In 1994, he started an Internet and eCommerce consulting company, Aslan Computing. The basement-born company quickly grew to a 20-employee business, and in 1997 won Microsoft's Solution Provider of the Year award for Northern California. After Aslan Computing was acquired by Servinet Consulting Group, McClure rode out the rest of the 1990s primarily as an advisor and consultant to various tech-based companies.
McClure didn't merely survive the dot-com bust of the '90s. His experience during those tumultuous times landed him premier positions between 2001 and 2005 with PayPal and SimplyHired, where he executed marketing, branding, and product strategy. He credits working in these environments—surrounded by professionals he describes as bright, geeky, and entrepreneurial-minded—with his next career move.
Having found his own niche in Silicon Valley, McClure now helps others make their entrepreneurial dreams come true.
As an advisor and investor, he's been involved in more than 40 early-stage startups in Silicon Valley since 2004, including Mint.com, a personal finance startup recently acquired by Intuit for $170M.
As a guest lecturer at Stanford university in 2007, McClure taught the nation's first-ever course on Facebook application development. The students caught on better than expected: Collectively, they developed applications that generated more than $1 million in advertising revenue. One team even raised venture capital.
Most recently, he's become active in the StartupVisa.com movement, a grass-roots initiative to change U.S. immigration policy and make it easier for foreign-born students and entrepreneurs to start U.S. businesses. "I'm having a blast," says McClure. "If I can make a significant difference in whether startups are able to get capital or turn a profit and get to the next level, that's incredibly rewarding."