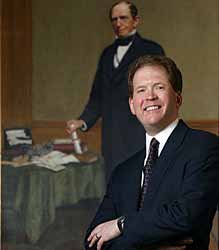 Lloyd Minor, a 16-year member of the faculty at Johns Hopkins School of Medicine and most recently director of the Department of Otolaryngology–Head and Neck Surgery, became the university's 13th provost and senior vice president for academic affairs on September 1, 2009. As chief academic officer, the provost is the second-ranking member of the senior administration and coordinates and promotes the university's research and education initiatives.
"At Johns Hopkins, we have uniformity of values," says Minor. "If each of us sets the goal of excellence beyond our current status, and pursues that excellence with integrity, then Johns Hopkins University will not only be the pre-eminent research university in America but will achieve outstanding new advances in each of our divisions."
Minor, who was recruited to Hopkins in 1993, is the Andelot Professorship in Laryngology and Otology and has joint appointments in the departments of Biomedical Engineering and Neuroscience. He is known internationally for his work on the physiological processes that mediate sensing and controlling motion.
Minor succeeds Kristina Johnson, a member of the Whiting School's faculty who had been provost since 2007; she left to serve in the Obama administration as undersecretary of the Department of Energy. After Johnson's departure, Scott L. Zeger, vice provost for research and a professor in the Bloomberg School of Public Health, served as interim provost.