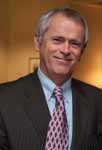 The devastation caused by the earthquake in Haiti is greater than most of us can comprehend. At the Whiting School, our hearts go out to the people of Haiti and all of those who have been touched by this terrible event. The destruction and suffering we see in the news coverage and in the first- hand accounts we're receiving from teams of Johns Hopkins health care and disaster relief workers assisting with recovery efforts have inspired relief efforts here on the Homewood campus as well.
As a civil engineer, one element I find most heart-wrenching is how recovery efforts have been thwarted by Haiti's collapsed infrastructure. Without working transportation, communications, water, and power systems, the delivery of assistance has become almost impossible. I know all too well that these same systems in the United States are also in need of an overhaul.
Much of the national discourse on infrastructure in the U.S. centers on the realization that without strategic investments, our nation's safety and our economy are at risk. In "Fragile Foundations," writer Mike Field explores the ways Whiting School faculty and alumni are contributing to this conversation and are offering solutions to these problems.
In a similar vein, my ability to make strategic investments in the Whiting School is one of my most important responsibilities as dean. In order to accomplish this task—that of essentially predicting the future—I rely on the collective knowledge of the school's leadership, including administration, faculty, alumni, and our advisory councils. Thanks to their vision and guidance, while the nation inches toward economic recovery, we are emerging from the economic downturn in a position of terrific strength. Every possible gauge indicates that we've invested wisely and that Hopkins Engineering is thriving.
On the research front, our 2006 investment to launch the Institute for NanoBioTechnology has proven fruitful. In addition to numerous research breakthroughs made at the INBT, the National Cancer Institute recently awarded the institute $14.8 million to launch the Johns Hopkins Engineering in Oncology Center. Our faculty received 22 American Recovery and Reinvestment Act grants in 2009, and WSE doubled its revenues generated through intellectual property.
Enrollments, across the board, are stronger than ever. This year's undergraduate applicant pool is the largest in Johns Hopkins history, and our admissions numbers continue to increase at a pace far exceeding that of our peers. This year we received a record-breaking number of early decision applications to the Homewood Schools, and an additional 5,000-plus students are now competing for admission to WSE's Class of 2014. Full-time graduate applications are also rising and enrollments in our Engineering for Professionals programs are on the upswing, thanks in large part to the investments we've made in our online offerings and corporate partnerships.
Fortunately, during the six years I have served as dean, building security, planning for the future, and optimizing resources have been the school's priorities. And this, I am convinced, is why we are doing so well today—and why I am so excited about the future.
Best wishes,
Nicholas P. Jones
Benjamin T. Rome Dean, Whiting School of Engineering