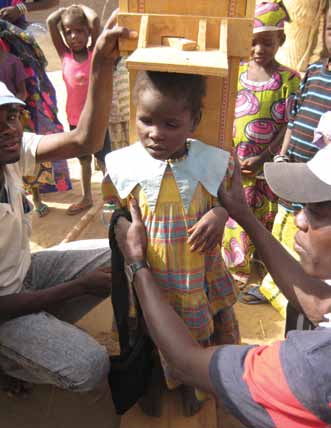 For every research project that gets designed, funded, and executed, there are many more that do not receive the money needed to get off the ground—leaving important scientific questions unexamined.
With four degrees from Johns Hopkins under her belt, Rebecca Freeman Grais, BA '95, MS '97, MS '99, PhD '03, tackles the unexamined questions. Trained in engineering, microbiology, and immunology, Grais works in Paris at Epicentre. The nonprofit organization was established 22 years ago by Médecins Sans Frontières, also known as Doctors Without Borders, to ensure the quality of its field operations. She directs the epidemiology and population health division, a role that immerses her in clinical trials and field investigations that evaluate the health situations of populations in "complex emergencies" and "precarious contexts" such as war, displacement, natural disaster, extreme poverty, and refugee camps. These population-based studies research such topics as the effectiveness of vaccine coverage, the success of relief operations, the spread of infectious disease, and more.
Because MSF is entirely funded through private donations, Epicentre is able to conduct studies that wouldn't receive funding through the usual channels. "Our research goals are to address subjects that academic institutes cannot necessarily address," often for political reasons, says Grais.
Recently, Grais and colleagues have published studies that address disease and malnutrition in some African populations. One study, published in Journal of the American Medical Association, looked at the effect of ready-to-use foods (RTUF) —viscous liquids containing, among other things, milk powder, vegetable oil, peanuts, sugar, vitamins and minerals—on wasting in children in Niger. The research showed that short-term supplementation with RTUF reduced wasting in children older than 6 months. In September, the Lancet published a study, co-authored by Grais, which reviewed the efficacy of rotavirus vaccines in sub-Saharan Africa. The review showed that while the vaccines protect against the serotypes most common in Europe, North America, and Latin America, many of the strains circulating in sub- Saharan Africa are not targeted by the currently available vaccines.
Having completed her doctorate in the global spread of infectious disease through air travel, Grais has turned her academic training toward improving the health of what she feels are neglected populations. "We use all the same protocols and standards used by academic institutions," says Grais. "But we have an ability to work in contexts that are quite difficult to work in. And we approach subjects where there's very little interest or funding."