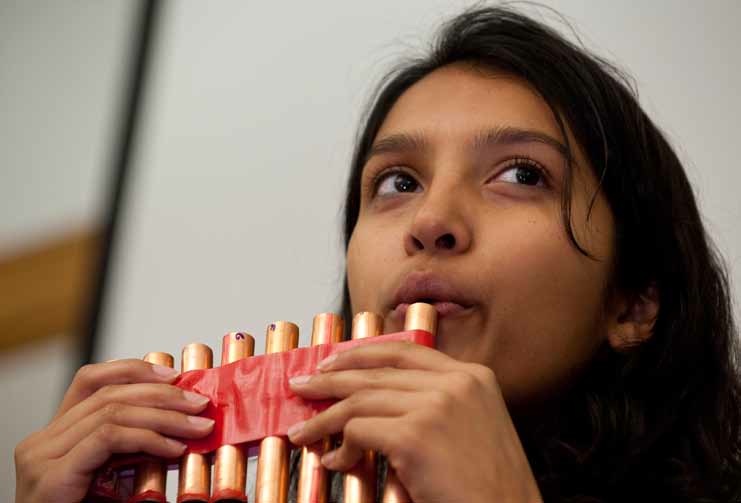 "I want to go for 'cool,' but relatively easy as I'm not great at building stuff," said biomedical engineering major Ammu Irivinti '10 to her partner, freshman Amanda Ross. It was early October and the students were discussing the final project for Archimedes' Lever: How Engineers Move the World, a one-credit engineering course that debuted this fall, thanks to the generosity of John Holmes '52. For the assignment, pairs of students would build musical instruments on which to play an assigned five-note tune, both as a solo performance and in a round.
On a December morning when the class gathered in Maryland Hall with their completed instruments, the students' creativity and construction skills were put to the test. Irivinti and Ross' copper pipe flute passed the sound check with flying colors, as did the flute made from an eggshell and a drinking straw, the shoebox and rubber-band guitar, and the drums constructed from painted PVC pipes.
"Students come here wanting to study engineering, but I'm concerned they don't really know what it means to be an engineer," says Ed Scheinerman who, in addition to creating and teaching the class, is the Whiting School's vice dean for education and a professor of applied mathematics and statistics. "I want them to 'think big' about engineering," Scheinerman says. "I want them to understand that engineering is a force that moves the world and prepare them for leadership in the engineering profession and society."
The class, named after the second-century B.C. mathematician, inventor, scientist, physicist, and astronomer who first explained the principle of the lever, boasted a roster of visiting scholars whose expertise was as diverse as Archimedes'.
For example, "Engineers must know how to communicate," says Scheinerman. And that is the reason why, on an evening in early October, Caroline Bleggi '11 stood before her class in Maryland Hall and read one of Shakespeare's sonnets to Hopkins alumnus John Astin '52 (A&S).
Astin, a visiting professor of theater (who portrayed Gomez Addams on the 1960s television show The Addams Family), explained to the class, "I'm going to help you talk. You'll find that life is a lot easier if you're able to express yourself, if you can use the words you have." "This is so scary," Bleggi said before launching into, "Shall I compare thee to a Summer's day?" When she finished Astin smiled and said, "You're going to do it again and again and it will get better."
Other class sessions featured history of science and technology professor Stuart Leslie speaking on the history of engineering; Linda Dillon Jones, JHU's director of human resources in the Center for Training and Education, discussing group dynamics and interpersonal relationships; and Andrew Douglas, the Whiting School's vice dean for faculty and a professor of mechanical engineering, who spoke to the students about energy before taking them on a tour of the rarely seen steam tunnels beneath the Homewood campus.
According to Scheinerman, engineering students need to think creatively, work collaboratively, and be open to new ideas. "They must develop skills that extend beyond their talent for solving differential equations," he says, "if they're going to reshape the globe."
Photo Caption: Senior Ammu Irivinti plays the copper pipe flute she built for the final assignment in the new course Archimedes' Lever: How Engineers Move the World. Photo by Will Kirk