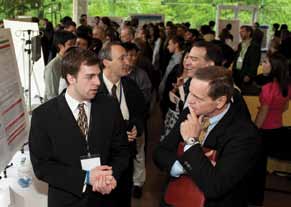 Charles Goldstein, MSE '68, PhD, vice president of research and leader of Becton Dickinson (BD) Technologies, has enjoyed a long and illustrious career with the world-class organization.
But he's never forgotten where his journey in engineering began. Throughout his professional career he's worked hard to ensure that the door to research and leadership opportunities at BD remains open for Hopkins engineering students who succeed him.
Increasing interest in chemical biomolecular engineering among Hopkins students excites Goldstein, who serves on both the department Visiting Committee and the Whiting School National Advisory Council. "I'm encouraged, particularly by the uptick in enrollment of students designating Chemical and Biomolecular Engineering (ChemBE) as their major," he says.
His support for the Whiting School doesn't end with ChemBE. His relationship to the school has facilitated BD's sponsorship of Biomedical Engineering (BME) Design Day for the past two years. The highly anticipated event represents the culmination of work by teams of BME students, who choose from among several real-world biomedical design projects and spend the year bringing them to fruition.
Last year, one of the project's sponsors, Harry Silber, assistant professor of medicine at Johns Hopkins Heart and Vascular Institute, challenged a student team to develop a patient-friendly, industry-standard prototype for a noninvasive diagnostic device he had created to measure left ventricular end diastolic pressure (LVEDP). The condition is associated with fluid overload—one of the primary causes of hospital admission for heart failure exacerbation. Currently, catheterization is the gold standard for measuring LVEDP. But Silber's device uses a finger pulse oximeter probe, commonly found in hospitals, to calculate a patient's pulse amplitude ratio, a measure that correlates positively to LVEDP.
Five BME students, including Sung-Jim Nate Sunwoo, jumped at the challenge. "We were interested in determining how we could assess LVEDP noninvasively. The science of it intrigued us," Sunwoo says.
The project proved to be a win-win. "The students gained an excellent understanding ofthe clinical need and underlying physiological concepts involved. I plan to incorporate their algorithms into future versions of the device," says Silber.
Goldstein marvels at the collaborative spirit of today's Whiting School students. "They are more actively working with each other; there's a greater camaraderie than in the past," he says. Such collaboration will prepare students well for professional opportunities, he believes, like the one BD just opened to Whiting School graduates with a PhD or MSE degree.
BD's Technology Leadership Development Program invites applicants—graduates from select engineering schools—to apply to a highly selective program within BD. Participants are placed on an accelerated track, spending three consecutive two-year rotations in multiple businesses and locations within the company.
The rotations, which are custom-designed focus in one area of expertise and rotate through different roles—such as research, product development, and project leadership—within a single business or product line.
Says Goldstein, "We're preparing new graduates to become our next generation of leaders."