Ndubuisi Ekekwe, PhD '09, refuses to stand by and watch his homeland miss the train on technological innovation.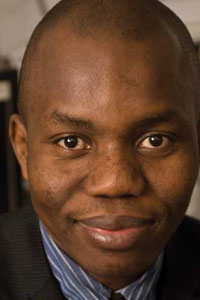 The lecture hall at the University of Agriculture in western Nigeria was packed, with people leaning in through open windows. All were eager to hear Ndubuisi "Nd" Ekekwe speak. His talk on microtechnology, robotics, and Africa's need to invest in technology diffusion is one he had given numerous times during his three-month visit to his homeland last spring. But on that sunny afternoon, he was wholly unprepared for the standing-room-only crowd. "I was really touched," recalled Ekekwe, 36. "I wasn't coming to give them a gift. I was just coming to talk. It was very emotional for me."
Ekekwe, who earned his PhD in electrical and computer engineering from the Whiting School last March, made the trip in his role as president of the African Institution of Technology (AFRIT), a nonprofit he founded in 2005. The organization's goal is straightforward: to move African technology forward into microelectronics and nanotechnology, "to create value and not merely consume technology," he says. To do that, he's tapping the expertise and passion of his fellow Africans who are living and studying abroad.
"For many years, Africa has been slow to the development of the most pervasive industry of our time—the semiconductor," notes Ekekwe. "The major challenge has been the human capital to drive the industry. We must support technological innovation for the continent to survive the intense competition of the 21st century."
Growing up in the rural village of Ovim, Nigeria, young Ekekwe would see poverty all around him and ask teachers why so few families had running water or electricity. The answer he was given—"I was told there was an engineering gap," he recalls—would have satisfied most children. For Ekekwe, though, it only led to more questions. "I decided then to become an engineer to help my community," he says. When he first saw photographs of robotics in a high school textbook, they were nothing short of science fiction to him and his classmates. But they served to inspire his interest in electrical engineering. "I knew it was the pathway to take me to robotics."
Ekekwe is well on his way to realizing his boyhood dream of an accomplished career in robotics. He has two patents pending for motion sensors used to control medical robots, and in December, a book based on his doctoral thesis, Adaptive Application—Specific Instrumentation and Control Microsystems, was published by LAP Publishing. He's also happily ensconced professionally, as part of the technical design team for Analog Devices in Cambridge, Massachusetts, where he and his colleagues develop next generation sensors for satellites, computers, robotics, and car airbags.
But he hasn't forgotten his childhood home, and the questions he posed as a boy still drive him. "In Africa, the problem is that electrical engineering is not being taught," he says. "The students want to learn, but there might not be the resources or even electricity in the school. In Africa, there are so many things to be done right. Why can't we get things right?"
After graduating from Nigeria's Federal University of Technology, Ekekwe spent three years in technical support at Diamond Bank, one of the only career options in his country for electrical engineering graduates. "The only technology that engineers know in Africa is IT and importing technology from the West," he explains. "I didn't want to support technological products. I wanted to create technology, so I started asking more questions about how to do that."
The answers led to Tuskegee University, where Ekekwe earned a master's degree in electrical engineering on a full scholarship. Next stop, Johns Hopkins. In 2004, he received an Engineering Research Center Fellowship to study robotics at the Whiting School of Engineering. Three years later, he was awarded the Jay D. Samstag Engineering Fellowship, established through a gift from Samstag '60.
It was during his years at Hopkins that Ekekwe founded AFRIT (originally named NeoCircuit), his first step toward his goal of a technology-rich Africa. After completing his PhD last spring, and before joining Analog in Massachusetts, he returned to Africa for several months on behalf of the nonprofit. He visited 15 universities in Nigeria and Nairobi, Kenya, to lecture to engineering professors and students, met with small- and medium-sized companies, and lobbied government officials. All told, Ekekwe reached upward of 8,000 people. Plans are well under way for his next AFRIT trips in 2010 to Mali, Egypt, and Cameroon, where AFRIT will host a Microelectronics Summer School with Germany's Afrisciences.
Thoughtful and eloquent, Ekekwe's pours forth passion with each word. While his vision for what could be drove him to found AFRIT, it is his training as an engineer that helped Ekekwe create an efficient and cost-effective system to accomplish his mission— a system built on the volunteer efforts of fellow countrymen. "The African students who study [engineering] abroad discover that our continent is not doing well," he explains. "We've created a conduit for people to return and help. They already have the passion, and the problems are obvious."
Thus far, AFRIT has hand-picked 45 engineers with expertise in semiconductor-related areas—who are working in the United States, Canada, Great Britain, Germany, and Sweden—to function as a consortium or "brain trust." When a member of the consortium is traveling to his or her native African country, Ekekwe reviews the person's vita and his ever-growing list of African universities and organizations interested in AFRIT's services. Acting as matchmaker, he arranges for the visiting engineer to conduct a free workshop or seminar. Because AFRIT consortium members pay for their own travel and volunteer their time as speakers and consultants, Ekekwe is able to keep costs very low.
"AFRIT is so effective because of the man behind it," says Chinyeaka Christian Ekenedu, an electrical engineering PhD candidate at Concordia University College of Alberta, who was a high school classmate of Ekekwe's. "Ndubuisi believes that Africa is a great continent, and [that its] resources in microelectronics and nanotechnology are still untapped. He has the right tool to transform his words to actions. He is well educated, humane, articulate, and very intelligent. Beyond all these, Ndubuisi is a good man, who is honest and full of ideas and creativity."
Ekenedu has co-authored two papers with Ekekwe on behalf of AFRIT, including "Challenges and Innovations in Microelectronics Education in Developing Nations," which Ekenedu presented at the IEEE 2007 International Conference on Microelectronics Systems Education in San Diego.
Schools and small businesses that turn to AFRIT for help can find it in a variety of ways. The nonprofit assists African undergraduate engineering programs with course development and trains African professors, students, and businesspeople to use CAD tools and software and to program robotics (advocating for free software from U.S. companies). AFRIT also collects used lab equipment and books to send to Africa. At Ekekwe's undergraduate alma mater in Nigeria, AFRIT has founded three awards for the best senior projects in the Department of Electrical and Electronics Engineering.
"We work primarily to assist African nations to improve their education programs as we understand that if the education is right, Africa stands a chance of getting better. Our services are free," notes the AFRIT website.
Ekekwe's commitment to his homeland hasn't gone unnoticed. In February 2009, the African Union selected him to attend its conference in Cameroon as one of the promising leaders for the continent. In addition to delivering a paper there, he met with Nigerian leaders to urge them to look at policy. "Our government needs to develop an infrastructure," says Ekekwe. "We have the ability to learn, but you have to be in the right environment. [Through AFRIT], we are trying to offer a vision for technology for a continent that lacks electricity."
Since he began offering answers on how that might be accomplished, others in Africa have begun asking the questions Ekekwe hoped they would. When he spoke to the African Union, its members requested a book on how to create technology in Africa. This winter, Nanotechnology and Microelectronics: Global Diffusion, Economics and Policy, edited by Ekekwe and with contributions from 45 people from 20 countries, will be published by IGI Global. The book offers insights on how developing nations can adopt and diffuse new technology.
AFRIT's impact thus far has been noteworthy, says a clearly pleased Ekekwe, who was nominated to the International Advisory Board of the World Bank–Nigeria Science and Technology Education Post Basic (STEP-B). And in December, he was named a prestigious TED Fellow, which recognizes "young world changers and trailblazers who have shown unusual accomplishment and exceptional courage."
"Since the last workshops, many students have written, indicating interest in microelectronics and nanotechnology. They now understand that the upstream sector of microelectronics and nanotechnology is what Africa needs, rather than just depending on the downstream sector of importing manufactured computer cards in order to assemble computers," he says, confident that such an approach will be nothing less than transforming. "If the modules AFRIT has developed are implemented, Africa is sure of moving from an underdeveloped to a developed continent in a few decades."
Ekekwe's ultimate dream is to return to Nigeria and run for the Senate—the only way, he is convinced, to successfully create a new technical education system and the infrastructure needed to support it. "I am not an activist, not an angry person," he says of his political ambitions. "I discovered, though, that there is little you can do if you are sitting outside the policy-makers.
"I hope to be in a position someday to create policy. The dream I had as a little boy of helping my community has not changed. The better you make the community, the better you are."
For more about AFRIT and its mission, visit www.afrit.org.