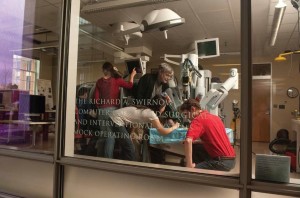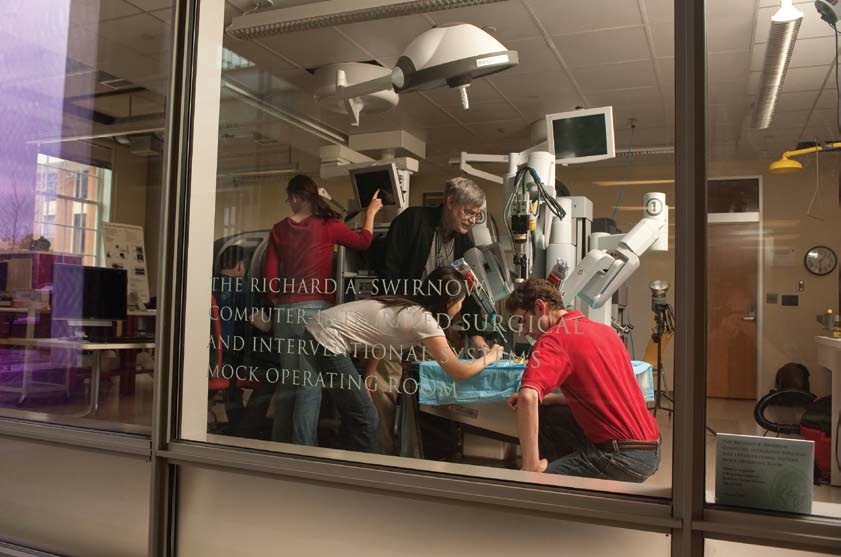 If visitors to Homewood campus wander long enough, eventually they stray from leafy tree-lined paths to the glassy breezeway leading to the Computational Science and Engineering Building (CSEB). Here, large picture windows offer a glimpse into the future of medicine-a mock operating room where Hopkins engineers, surgeons, and computer scientists push the limits of surgical robotics to test advances that will lead to the safest, most-effective surgical treatments for patients.
"In order to develop technology, you need to work on the systems in an operating room without a hospital's logistical constraints of time and space," says Russell Taylor '70, professor of computer science and director of the WSE's Engineering Research Center for Computer Integrated Surgical Systems and Technology. "The Swirnow Mock OR is making everything we do with the Hopkins School of Medicine more effective, and it's bringing the two campuses together. It's an excellent staging ground for a real-life environment and an exceptional teaching lab for undergraduates and graduates working together."
The Mock OR, which opened in 2007, was made possible through the generosity of Richard A. Swirnow, who earned his BS in industrial engineering from Johns Hopkins in 1955. Swirnow's gift also led to a unique partnership between the Whiting School and Intuitive Surgical Inc., with the recent installation of Intuitive's da Vinci Surgical System.
The Mock OR's newest marvel, the da Vinci Surgical System, looks like a high-tech octopus. However, it is actually a very sophisticated surgical tool that permits surgeons to perform highly dexterous surgical tasks. The surgeon controls the motion of surgical instruments inside the patient's body by moving control handles at a console next to the operating table, while observing a 3D video image of the surgical site.
The $1.5 million da Vinci, manufactured by Intuitive Surgical Inc. of Sunnyvale, California, arrived on campus in late March on loan for three years. Although the system will be used only on nonliving models, it is identical to systems that are routinely used clinically.
"The da Vinci is the most successful surgical robot in widespread clinical use today," says Taylor. "Its arrival is the result of longstanding research collaboration with Intuitive, and it will significantly enhance our ability to develop new ways to use computer-based technology to help surgeons in minimally invasive procedures." Taylor expects many advances: "Having this amazing machine in the Mock OR puts it in an environment where it is easy for students and faculty alike to try out new ideas. It is a big step along the path from bench to bedside, and we are extremely grateful for this generous loan."