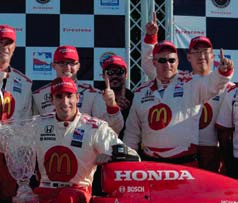 As a high school student, Stephen Lee '99 dreamed of working on race cars. "I watched Team Penske win the Indianapolis 500 and thought, someday I'm going to work for Roger Penske," he recalls.
However, Lee's parents wanted him to become a doctor, so he enrolled at Hopkins' School of Arts and Sciences as a biology major. It only took a year and a half for him to realize that biology wasn't his strong suit and medicine wasn't his calling. Lee transferred to the Whiting School to study engineering mechanics, focusing on aerodynamics. It was the first step toward making his teenage dream come true.
In the years since then, Lee's career has been on the fast track. From working in R&D for NASCAR's Team Penske to serving as a vehicle dynamics specialist for the late Dale Earnhardt, he has lent his engineering expertise to an impressive array of the profession's greats.
After Hopkins, Lee headed to Old Dominion University for its master's program in aerospace engineering in a program funded by NASA's Langley Research Center. "We put cars inside the wind tunnel and measured forces such as drag, lift, and pressure," he says. One project involved using pressure-sensitive paint, which allows the engineers to visualize the pressure distribution on the car in a wind tunnel. "It's very difficult to take accurate measurements from a car when it's moving, so instead we moved the wind," says Lee.
One of the regular customers of Old Dominion's wind tunnel was Roger Penske's NASCAR race team. After Lee finished his master's degree, the team offered him a job to continue the R&D he had been working on at NASA. "It was pretty exciting. We were trying to figure out how to reduce drag and create more down force. The rules were quite strict so we could only make tiny changes to the shape of the car, like making the fenders slightly wider or narrower." The goal, overall, was to "cheat the air," he says. "We were doing the same things other engineers do, except we were doing them on race cars."
After two years with Team Penske, Lee worked briefly for a motorcycle start-up company before taking a job with Pratt and Miller, where he spent six months working as a vehicle dynamics engineer assigned to Dale Earnhardt Jr.'s team. When the season ended, Lee moved on to the NASCAR circuit as an on-the-road race engineer with Robert Yates Racing. The NASCAR season, which runs February through November, "is very long and there is a race pretty much every week," Lee says. "It was a lot of work and a lot of travel, but it was a once-in-a-lifetime opportunity to be the first Asian race engineer in NASCAR. One of my favorite memories was being on pole in my first race, the Daytona 500."
His next stop: Newman/Haas/Lanigan Racing (NHLR) as part of the McDonalds-sponsored team, driven by Justin Wilson, a veteran of Formula One racing, and Graham Rahal, son of Bobby Rahal, the 1986 Indianapolis 500 champion.
Soon after Lee joined NHLR, the team was thrown into a whirlwind of activity when ChampCar, the series in which it had competed, merged with IndyCar, ending a 12-year split in open-wheel racing. "It was tough," Lee says of the merger's aftermath. "We had only six weeks to get ready for the first race with new cars on new race tracks." Their concentrated efforts paid off, with the team winning both the second and penultimate race of the 2008 season.
The dust barely had time to settle on those victories before Lee left Newman/Haas/ Lanigan—and car racing—to be a test director at the National Full-Scale Aerodynamics Complex at NASA's Ames Research Center in Mountain View, California. "I decided it was time to grow up, settle down, and get a real job," he jokes. Lee still enjoys getting behind the wheel of his black 2005 Porsche Boxter S, though he swears he never speeds. "I'm a responsible guy!"